Employee Self-Service®
Reduce your burden and engage your workforce with self-service payroll and HR software that directly connects employees to their data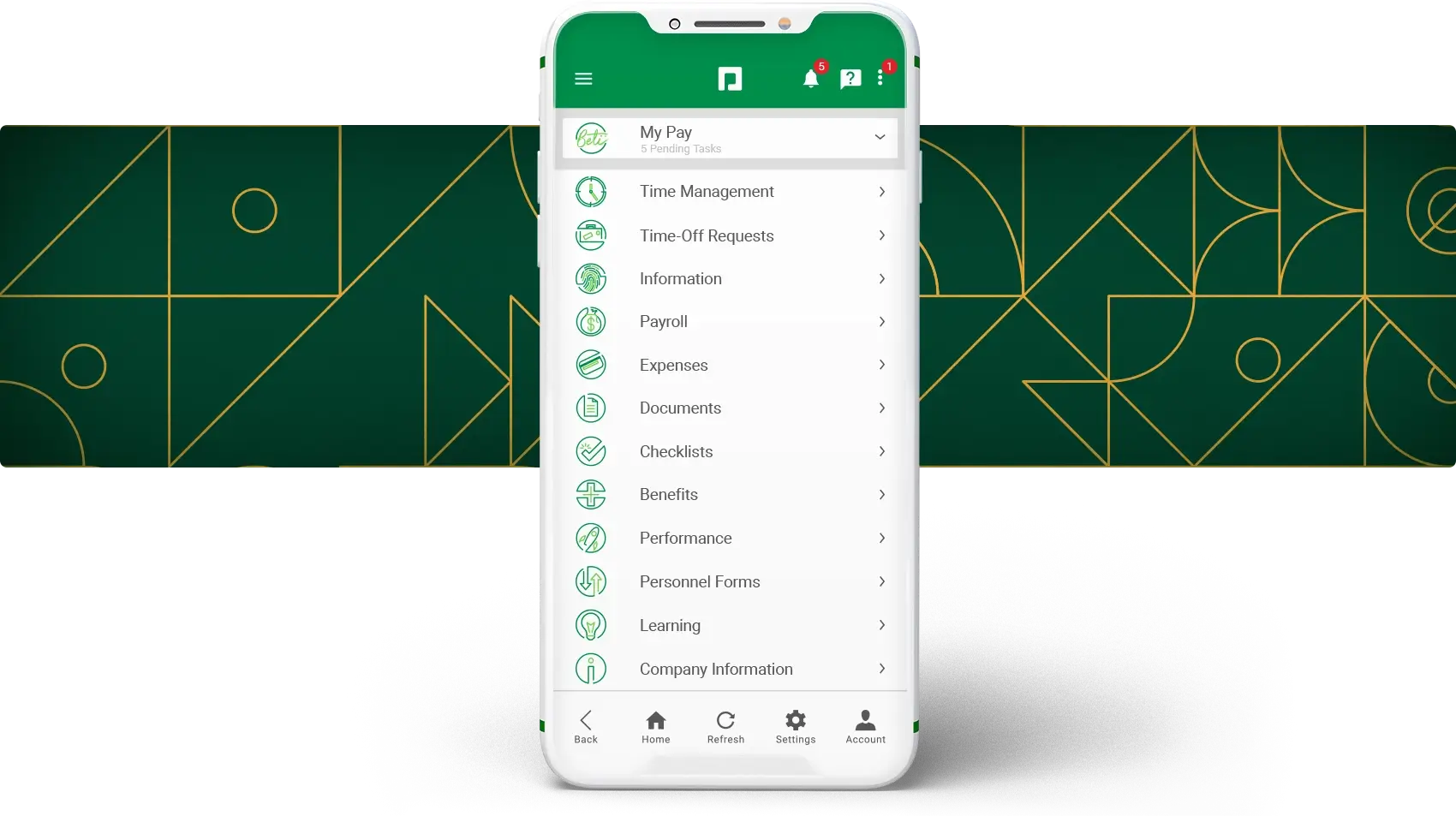 Employee self-service payroll software and HR data access free HR from administrative busywork
Let employees manage their own HR data with Paycom's Employee Self-Service software, with 24/7 access through our mobile app. Secure and convenient, it eases demand on HR and payroll personnel whose time is best spent elsewhere. Because employees know their information best, allowing them to enter and manage it themselves increases accuracy, trust and engagement. It also eliminates data reentry, helping decrease your organization's compliance risk.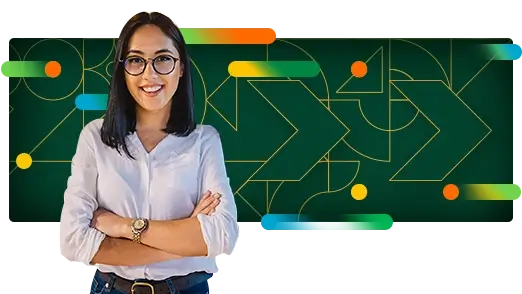 Accessible in English or Spanish, the tool allows your workforce to update contact information, direct deposit account details, beneficiaries and other personal data. That way, HR no longer has to, reducing the number of phone calls, email chains and unannounced drop-ins. Plus, data accuracy rises.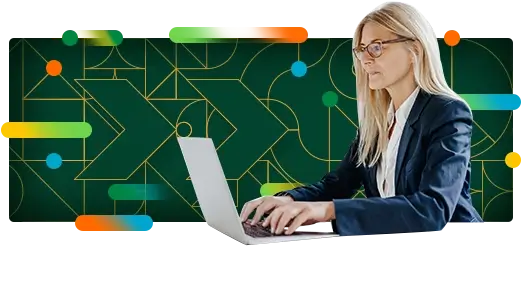 In one app, new hires can electronically sign and submit IRS W-4 tax forms, I-9 employment eligibility verification and other required documents. To help you stay compliant, all are securely stored in online personnel files for convenient, anytime access.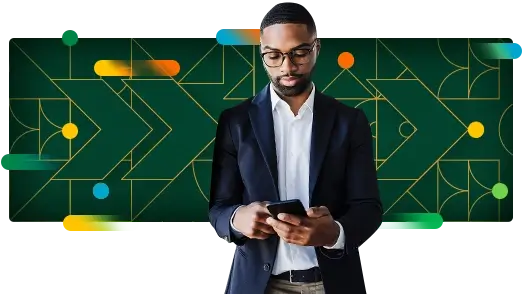 No more wasting time fielding the same questions over and over when the answers employees seek are right at their fingertips! From anywhere, they can look up pay to date, current pay rates, past pay stubs, accruals for time off, federal and state tax withholdings, year-end tax forms and other important HR information.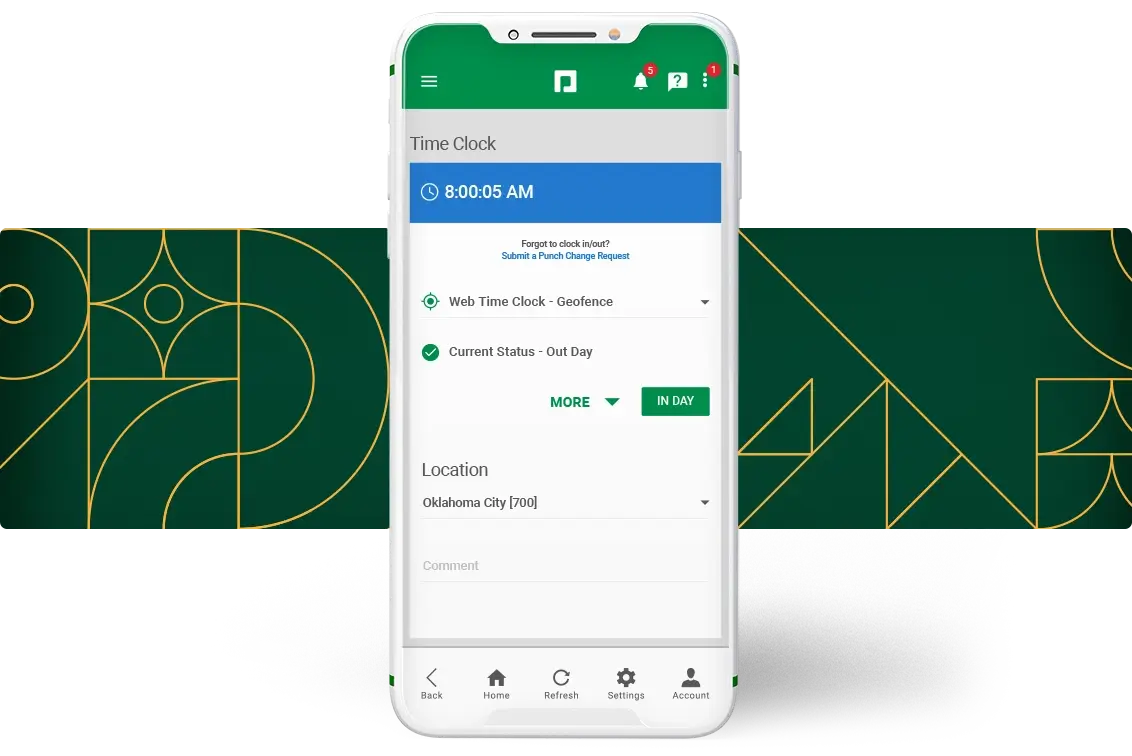 See what Employee Self-Service software in one app lets employees do
view PTO accruals and request time off
clock in and out
enroll in benefits through a guided process
test how deductions would affect take-home pay
access plan documents anytime
upload and submit receipts for expense reimbursement
track mileage automatically
complete assigned learning courses
and more, depending on client's functionality setup
NO ONE KNOWS EMPLOYEE DATA BETTER THAN EMPLOYEES
Over 6.5 million Americans rely on Paycom's technology every year
"Using Paycom, I'm able to enter my personal information and I know it's right. Nobody knows my personal information like I do."
HR manager
manufacturer
"It's employees' information. They should have control over it. We trust them with our clients. We trust them with the money going in and out of our office. So why can't we trust them with their own data?"
HR director
financial services firm
"With employees, everybody says it's just really super easy to use."
HR and payroll manager
IT company
"Our employees love the Paycom app. It's empowering to them because they have access to their own information."
leadership development director
nonprofit organization
"Our employees love the ease of the system. They've mentioned how nice it is to use Paycom and be able to see everything that's going on."
HR director
beverage company
EMPLOYEE SELF-SERVICE works well with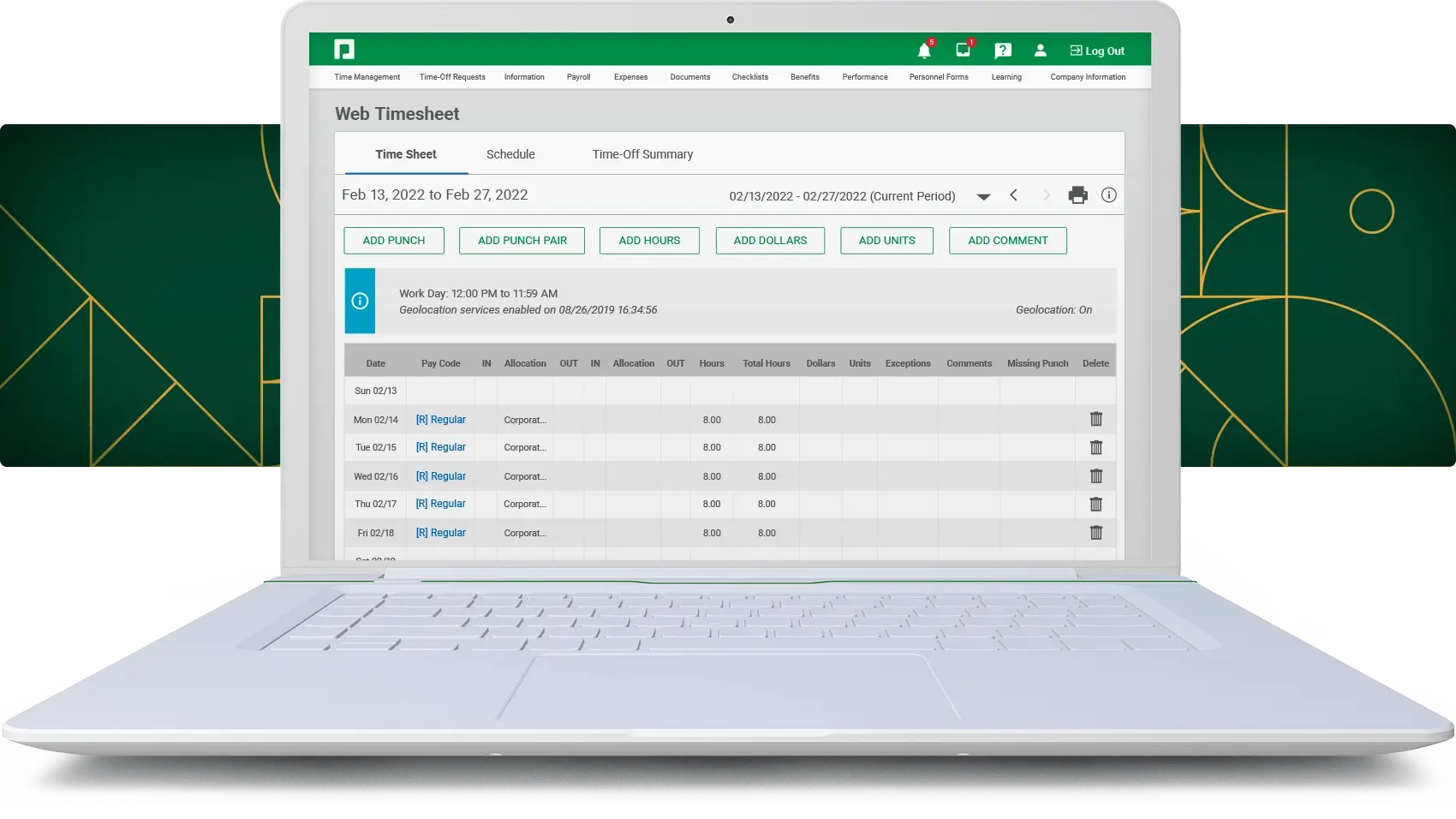 Accurately and efficiently manage when, where and how your employees report hours worked.
FREQUENTLY ASKED QUESTIONS
Learn more about the ins and outs of Employee Self-Service software
Yes. Changes to personal information arising from qualifying life events can be easily changed in our HR employee self-service software.
Of course! Paycom's single software empowers employees to enter and maintain their own HR data in Employee Self-Service.
Yes, employees and managers alike can access Employee Self-Service using the single sign-on of Paycom's mobile app.
Employees have access to a variety of tools at their fingertips with Employee Self-Service. The tools they can use depends on a client's selection of functionality and access level for employees.
Yes. It's easy for employees to record and submit expenses via Employee Self-Service.
Yes, employees can submit time-off requests easily ⁠— anytime, anywhere ⁠— through our self-service app.
Yes, with our employee self-service portal software, employees can identify and resolve payroll errors or approve their paycheck prior to payday.
Within our self-service payroll features, employees can approve their paycheck, view time-off accruals and request PTO, enroll in benefits, access learning courses and more!
Yes. Depending on what's been assigned by their employer, employees have 24/7, mobile-friendly access to a variety of Paycom Learning training courses and paths through Employee Self-Service.
For all your talent management needs in a single software, request a meeting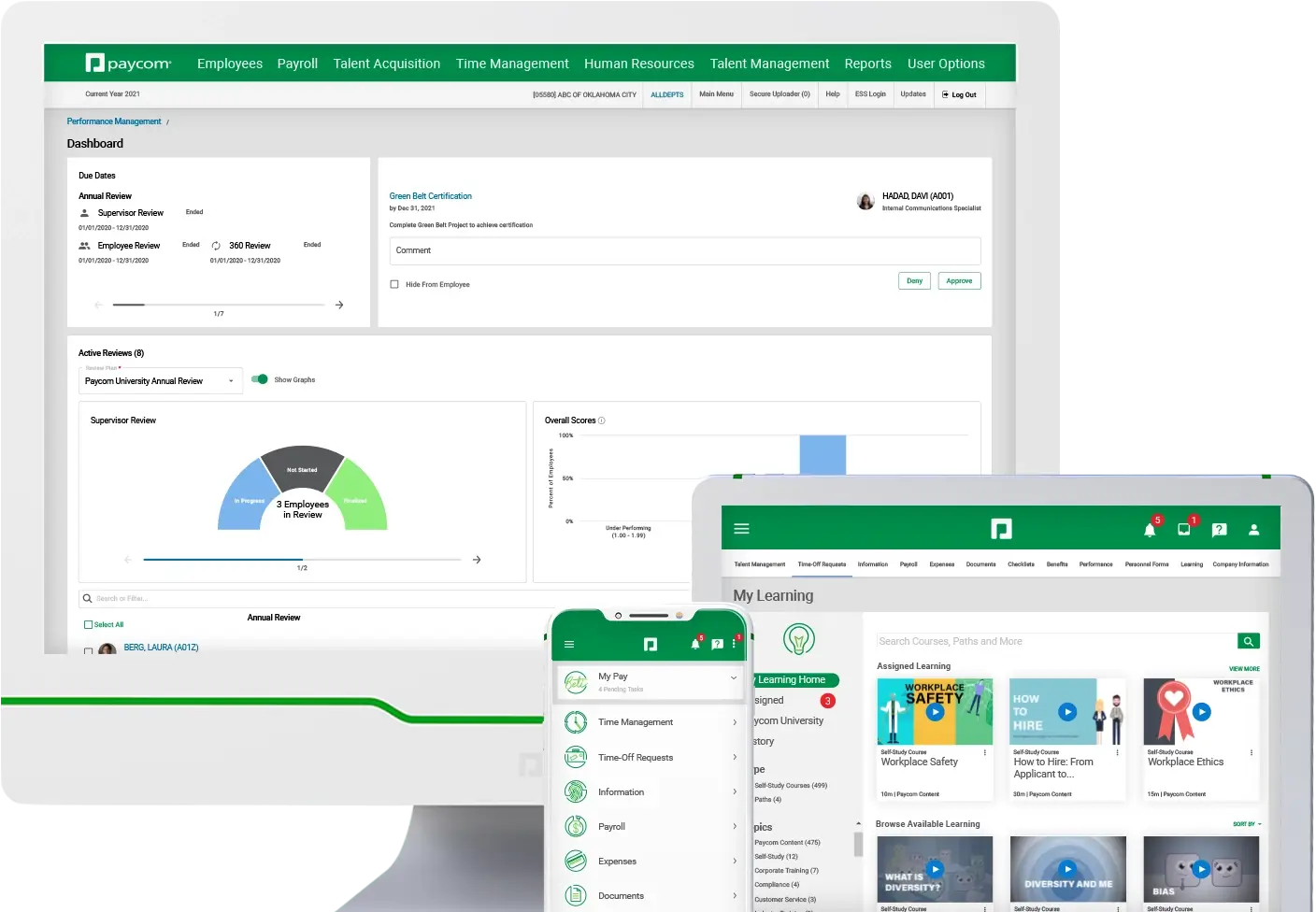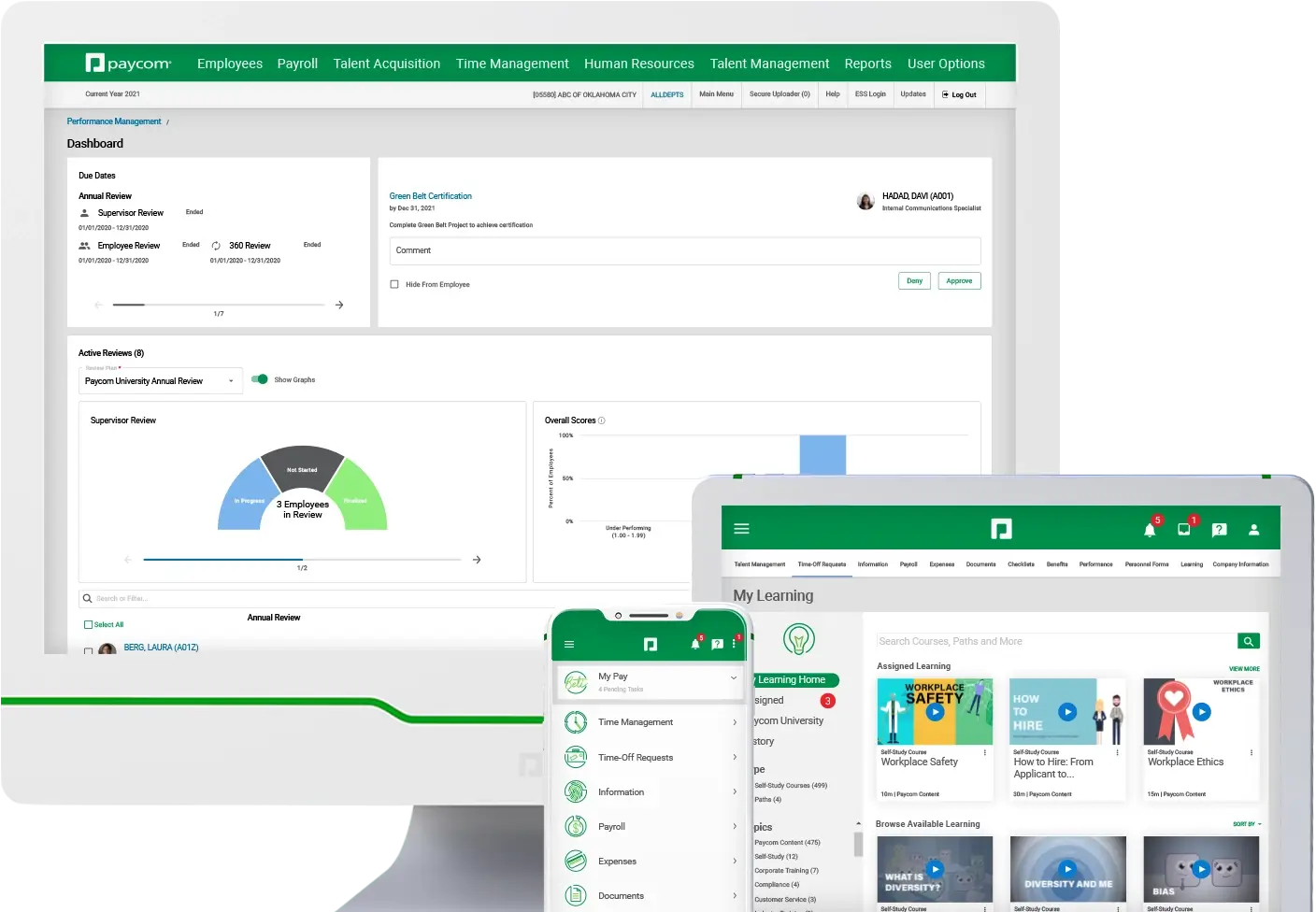 For all your talent management needs in a single software, request a meeting.