Paycom Learning
Easily and consistently train your employees with learning management software as you engage them with ongoing development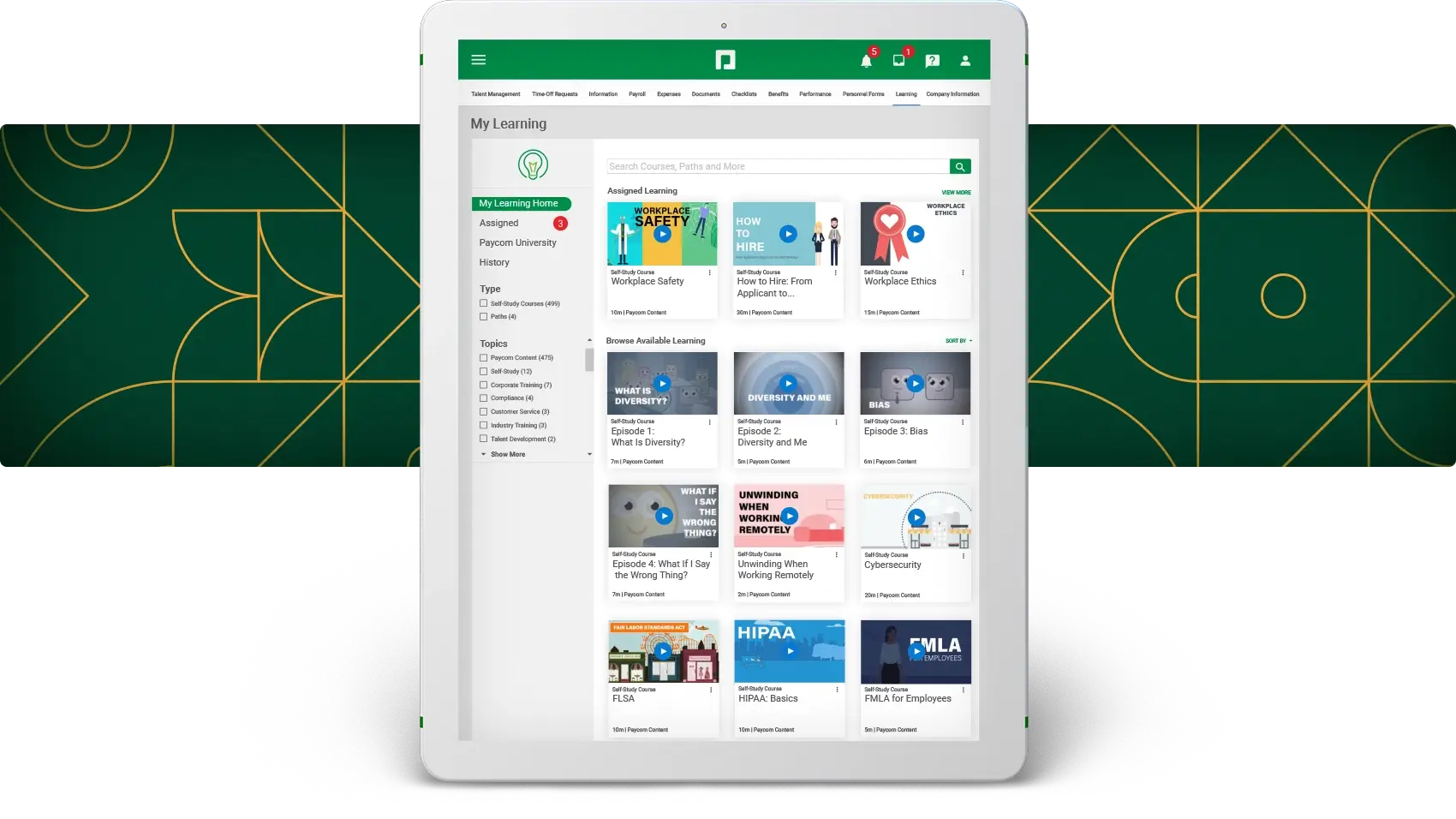 Reskill and upskill employees with one learning management HR software
In today's rapidly changing business environment, employee development is an effective way to set up your organization for growth and success. Whether you need to reskill your workforce, upskill emerging leaders or teach new employees the basics, Paycom Learning's intuitive, scalable experience provides the mobile-friendly training today's workers want while keeping them current on required certifications and company policies.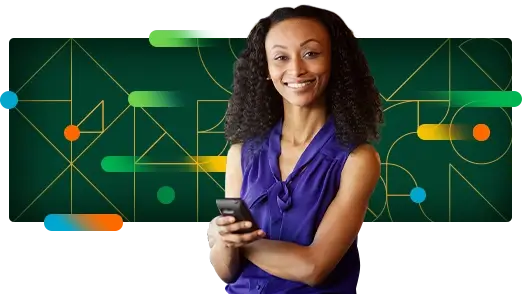 The best learning management software helps reduce compliance risk. Paycom Learning does that with built-in courses on foundational topics. Ensure consistency companywide with a knowledge base that lets employees easily access training content and measure their progress from anywhere.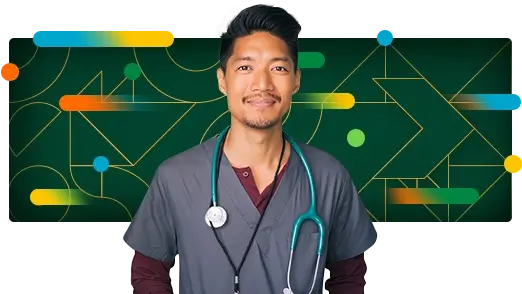 Paycom Learning allows you to effectively instruct tomorrow's leaders for continuing growth and development. You also can use our online learning management software to communicate critical updates and companywide messaging. Either way, you're helping create a positive employee culture.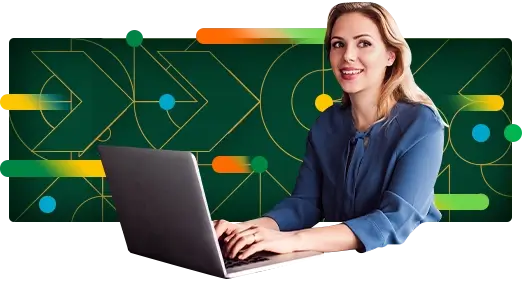 Our learning management system (LMS) software guides you through easy creation of your own courses, with options to add quizzes and closed captioning. Upload and edit high-quality video content for informal microlearning, and empower employees to demonstrate they truly grasp the skills or topics covered by the material.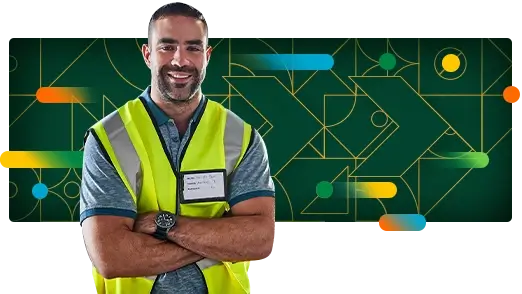 In addition to built-in content or creating courses, add a subscription to offer compliance and management instruction specific to your industries. Options include safety, health care, construction, manufacturing, transportation, hospitality and others, with more than 225 courses in English and Spanish.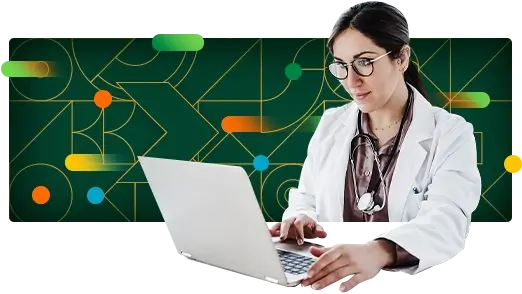 Our learning content management system software offers robust analytics and reporting, including a dashboard to monitor who has — and hasn't — completed courses. It's also easy to manage and track certification credentials for simplified record-keeping and regulatory compliance purposes.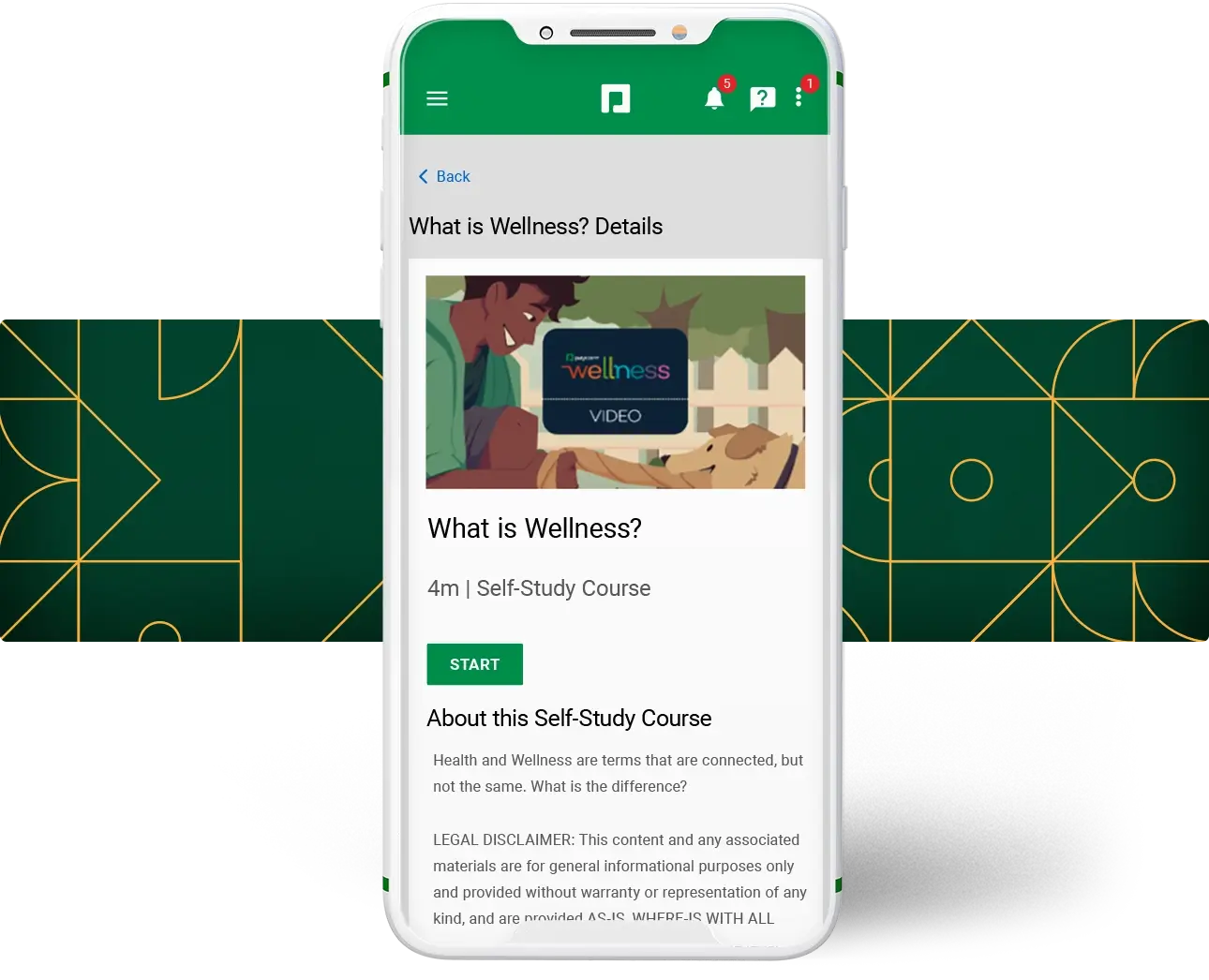 Built-in courses are available for your unlimited use
preventing discrimination and harassment
workplace ethics
diversity and inclusion
cybersecurity
equal employment opportunities
and more — all in one easy-to-use app
E-LEARNING MANAGEMENT SOFTWARE FOR ANY SIZE BUSINESS
Over 6.5 million Americans rely on Paycom's technology every year
"I've used a lot of electronic and web-based platforms. I don't think you're going to find anybody else out there that is going to measure up to Paycom Learning."
safety director
construction equipment company
"It's helped with compliance and staying on top of safety training. I can make sure it's actually happening. It has made a big difference."
HR generalist
printing company
"Anyone who's taken the Paycom Learning courses likes them. They are concise and get to the point."
chief learning officer
trucking company
"If we decided to hire trainers instead of implementing Paycom Learning, it would've taken at least three people and cost $210,000 for three salaries, plus $60,000 a year in travel expenses."
chief learning officer
motor company
"With my saved time with Paycom, I've been able to do a broader look at what training we need as an organization and the training that will make us grow, improve and move forward."
manager of training and recruiting
transportation company
"Since we got Paycom, I'm able to develop and focus more on training than we were before."
leadership development director
nonprofit organization
Paycom Learning works well with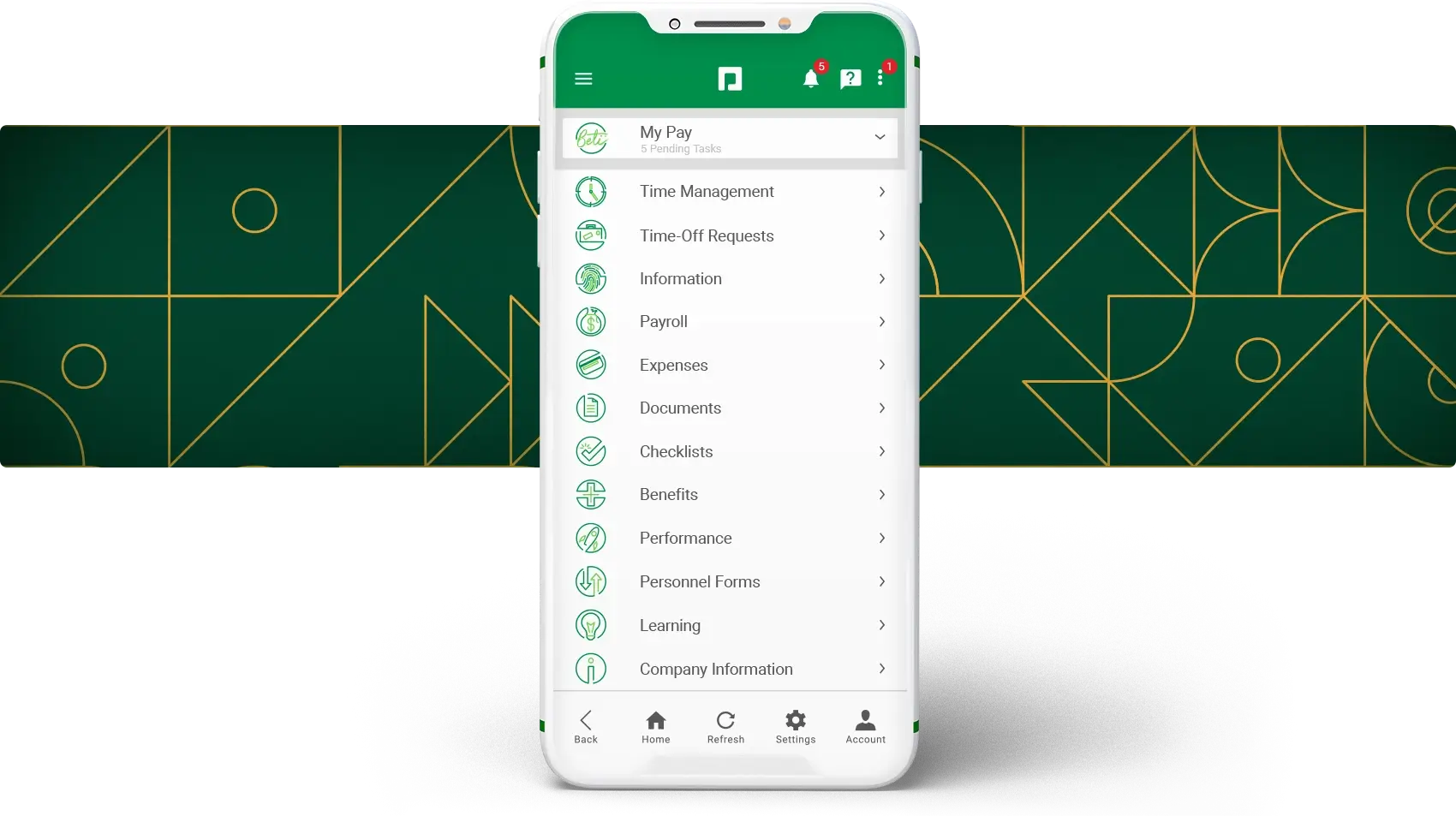 Reduce your burden and engage your workforce by directly connecting employees to their HR data.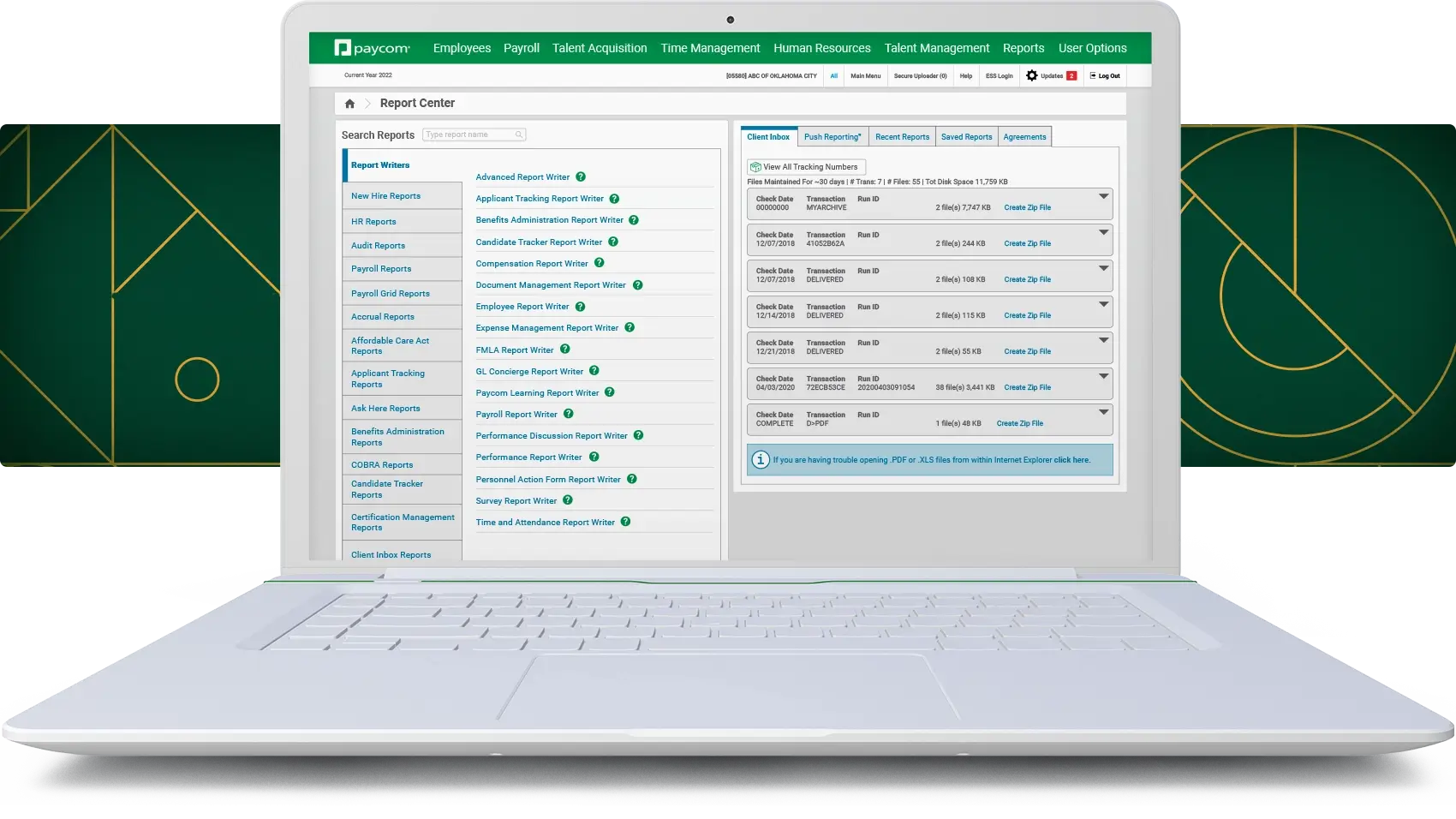 Easily generate and review customizable or predefined reports across all workforce data in real time.
FREQUENTLY ASKED QUESTIONS
How businesses accomplish more with Paycom Learning
Clients with Paycom Learning have no-cost access to a variety of compliance-related courses covering topics such as HIPAA basics or the prevention of discrimination and harassment.
Customized quizzes to test comprehension can be created through Paycom Learning and added to courses and paths. Clients can create quizzes using a variety of question types, including multiple-choice, true-false, drop-down and short-answer.
Yes, clients can enroll employees in learning courses and paths based on specific needs. Clients can specify employee groups by department, location, status, etc.
With Paycom Learning, clients can create automated reminders to help drive completion of mandatory courses. This can be done by scheduling push notifications to be sent through the Paycom mobile app or via email.
Users can create customized courses and paths in our learning content management software to provide training on topics suiting your company's needs and performance goals. Paths group related courses, providing a convenient way for your workforce to complete them all.
Our HR training management software's video capabilities allow clients to easily edit and upload their own videos for focused microlearning.
Paycom Learning has a variety of predefined reporting options clients can use to track their workforce's training progress. In the Report Center, they'll find reports to track enrollment status, quiz scores and more. Users can also create custom reports that can be saved for quick, repeated use.
Custom certificates can be created in Paycom Learning to recognize the completion of courses or learning paths. These certificates can be presented to employees to include in their development records.
Absolutely! Our learning management software for small businesses to enterprise-level companies allows clients to manage and track certification credentials for a simplified, easy-to-access record. Employees can also submit certifications for approval so managers can keep track of expiration dates.
Yes. Our enterprise learning management software supports content packages of the following file types: SCORM 1.1, SCORM 1.2, SCORM 2004 (2nd, 3rd and 4th editions), Tin Can API and AICC.
For all your talent management needs in a single software, request a meeting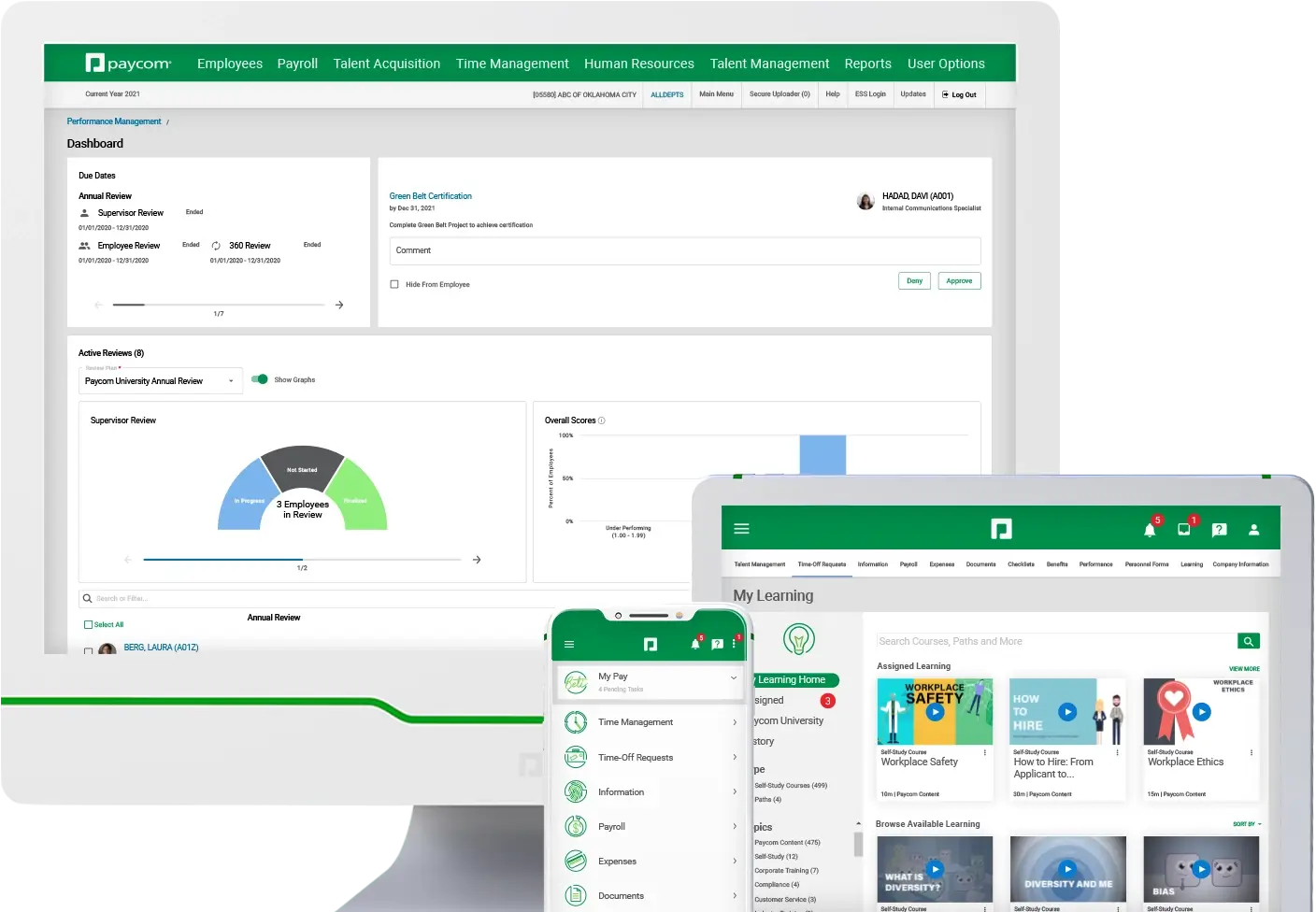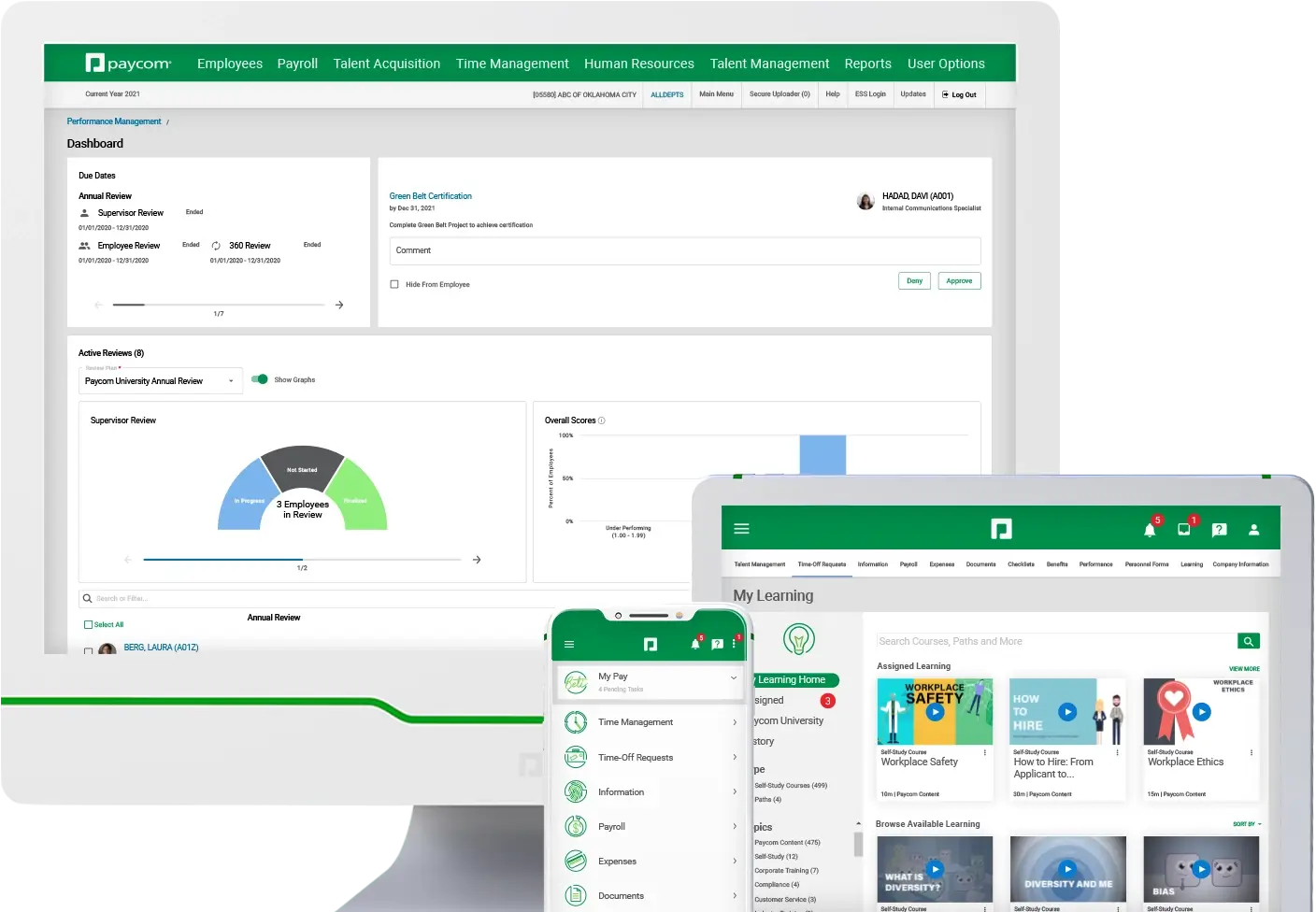 For all your talent management needs in a single software, request a meeting.