Vault
Boost employee benefits and loyalty with the Vault Visa® Payroll Card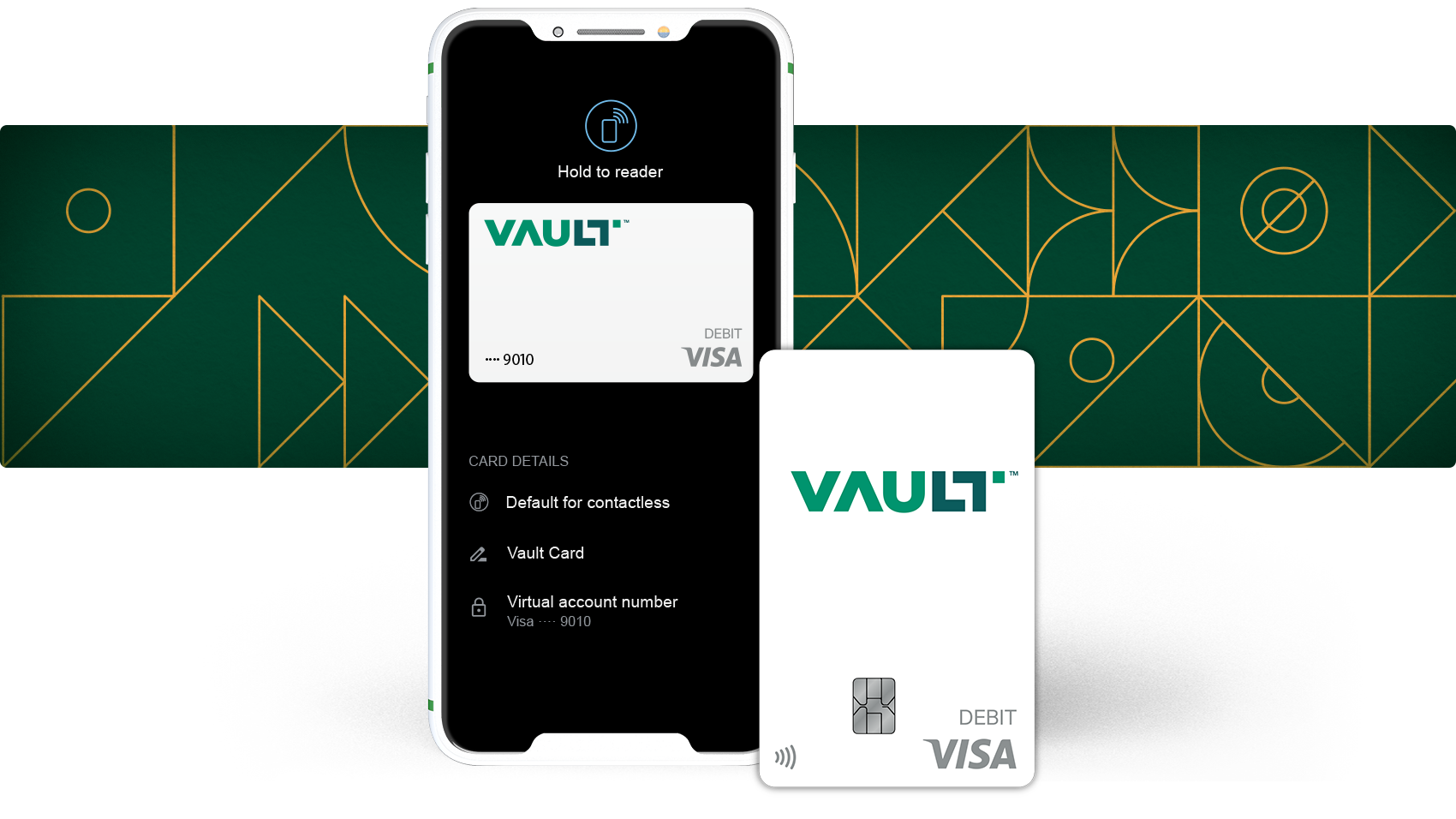 Gain an edge in hiring and retention with an in-demand benefit
When it comes to hiring and retaining talent, every advantage counts. Give employees the financial convenience they demand with the Vault Visa® Payroll Card. With Vault, employees can have some* or all of their wages deposited on the secure Vault card. And they can get paid up to two days earlier† for greater financial flexibility. It's a powerful employee benefit — and a secret weapon in the competition for talent.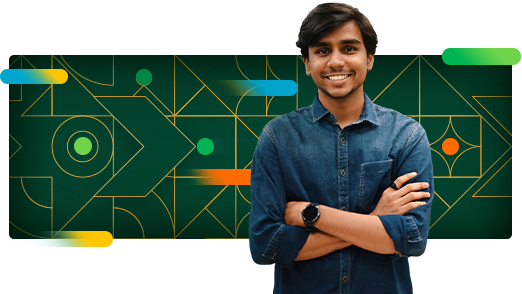 Vault minimizes the chaos, headaches and administrative burdens of paper-based payroll. It reduces check fraud through secure electronic funding. It decreases the burden of processing paper checks. And when you partner with Visa and Paycom, you never have to worry about card inventory or distribution. In just a few simple steps, Vault can easily be made available to employees paid through Paycom.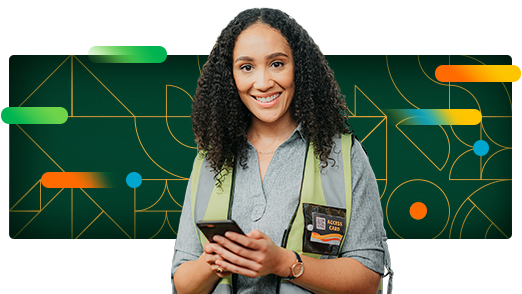 With Vault, employees without bank accounts can avoid costly check-cashing fees. That helps families hold on to more of their hard-earned cash. With no activation fee, monthly fee or minimum account balances,†† the Vault card gives them the freedom they want, plus access to Visa Offers and Perks.¶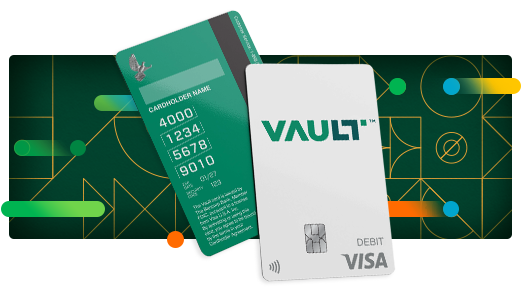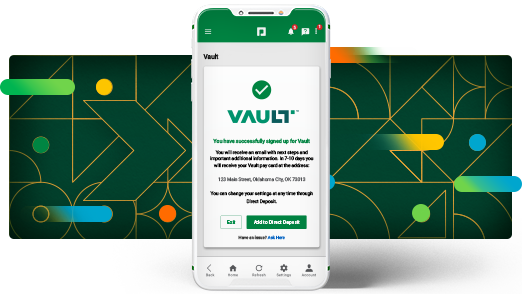 Employees can enroll quickly and easily through our self-service mobile app. On approval, they'll enjoy instant access to a digital pay card. A physical card follows by mail. With the free§ My Vault Card app, employees can review and monitor their pay card funds.#
VAULT WORKS SEAMLESSLY WITH OUR AWARD-WINNING SOLUTIONS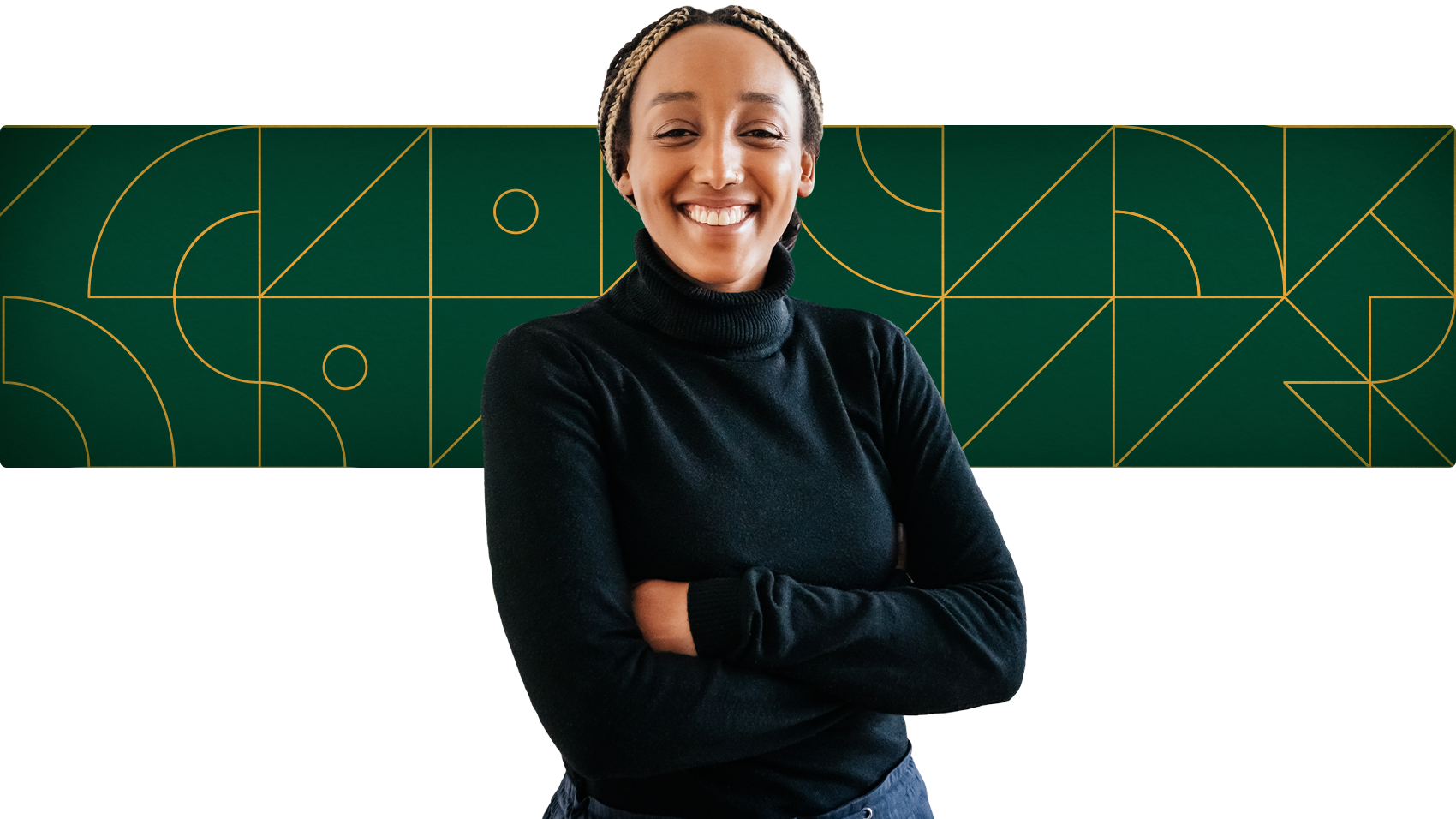 Eliminate the tedious, risky job of check reconciliation by issuing employee paychecks that clear off our bank account, not yours.
Explore these resources for greater payroll insight
FREQUENTLY ASKED QUESTIONS
Explore the ins and outs of Vault
Vault is a Visa® Payroll Card exclusively offered to employees of businesses using Paycom, giving you convenience and control over how you get paid. By opting to have your payroll deposited directly to the Vault card, you not only gain convenience, but can avoid check-cashing fees. Whether you have your pay deposited to your Vault card in part or in full*, the choice is yours.
The Vault card is available to U.S. citizens or legal residents who are 18 years old or older, work for a participating employer, are enrolled in their employer's Employee Self-Service® software and have a valid Social Security number. Before issuing your card, we will collect your name, physical mailing address (no P.O. box), date of birth and other personal information in order to validate your identity. If we cannot validate your identity, you will not be issued a Vault card.**
Yes. Former employees can add funds to their card via direct deposit by providing their next employer or benefits provider with their Vault card's routing and account numbers.
There are no overdraft fees because you are unable to overdraft. Because this card is prepaid, you can spend only what is on the card.††
Yes, employees can:
get their payroll direct deposit up to two days earlier†
make contactless payments through their mobile device's digital wallet
get balance and transaction alerts
view their balance and recent transactions
suspend/unsuspend their card
get cash without a fee at thousands of Allpoint® ATMs nationwide§
make purchases everywhere Visa® debit cards are accepted
get cash back at retailers who offer this service (retailer may charge a fee and limit cash back amount)††
load cash at thousands of Green Dot® reload locations nationwide§§
No. At this time, secondary card options are not offered.
Yes. The My Vault Card mobile app is on Google Play® and the App Store®.#
Yes! Employees' Vault card may be added to their Apple Pay®, Google Pay® or Samsung Pay® mobile wallet. After successful enrollment, they'll receive an email with instructions to add their Vault card to their preferred mobile wallet. After they receive and activate their personalized plastic card, their initial digital Vault card will no longer be active. They will need to update their card information in their preferred mobile wallet.
*Employers must offer split direct deposit to multiple accounts in order to have just a portion of wages deposited to the Vault card.
†Early direct deposit availability depends on timing of payer's payment instructions, and fraud prevention restrictions may apply. We generally make these funds available on the day the payment file is received, which may be up to two days earlier than the scheduled payment date. As such, the availability or timing of early direct deposit may vary from pay period to pay period.
††See the Cardholder Agreement linked at myvaultcard.com for a full list of fees and limits applicable to your card.
¶Offers are made by participating merchants. The Bancorp Bank, N.A., and Paycom are not the sponsor of Offers and Perks and are not responsible for fulfilling orders.
§See app or visit myvaultcard.com or allpointnetwork.com for surcharge-free ATM locations. Fees apply for out-of-network withdrawals. See your Cardholder Agreement for full list of applicable fees for your card. ATM limits apply.
||Subject to its terms, under Visa's Zero Liability Policy your liability for unauthorized Visa debit transactions on your Card Account is $0.00 if you are not negligent or fraudulent in the handling of your Card. You must notify Vault Customer Service immediately of any unauthorized use. For specific restrictions, limitations and other details, please consult Vault Customer Service.
#When using a mobile device, standard text messaging and/or data rates from your wireless service provider may apply.
**To help the government fight the funding of terrorism and money laundering activities, federal law requires all financial institutions to obtain, verify and record information identifying each person who opens a Card Account. What this means for you: When you open a Card Account, we will ask for your name, address, date of birth and other information that will allow us to identify you. We also may ask to see a copy of your driver's license or other identifying documents.
§§When loading cash, third-party fees, limits and restrictions may apply. See the Cardholder Agreement for more information.
The Vault Visa® Payroll Card is issued by The Bancorp Bank, N.A., Member FDIC, pursuant to a license from Visa U.S.A. Inc. and can be used everywhere Visa debit cards are accepted.
Google, Google Play and Google Pay are registered trademarks of Google, LLC. Apple, App Store and Apple Pay are trademarks of Apple, Inc., registered in the U.S. and other countries. Samsung and Samsung Pay are trademarks owned by Samsung Electronics Co., Ltd. Visa is a registered trademark of Visa International Service Association. Allpoint is a registered trademark of ATM National, LLC. Green Dot is a registered trademark of Green Dot Corporation. All other marks and logos are the property of Paycom or the respective owners of such marks and logos.
Get payroll and pay cards from a single, world-class provider.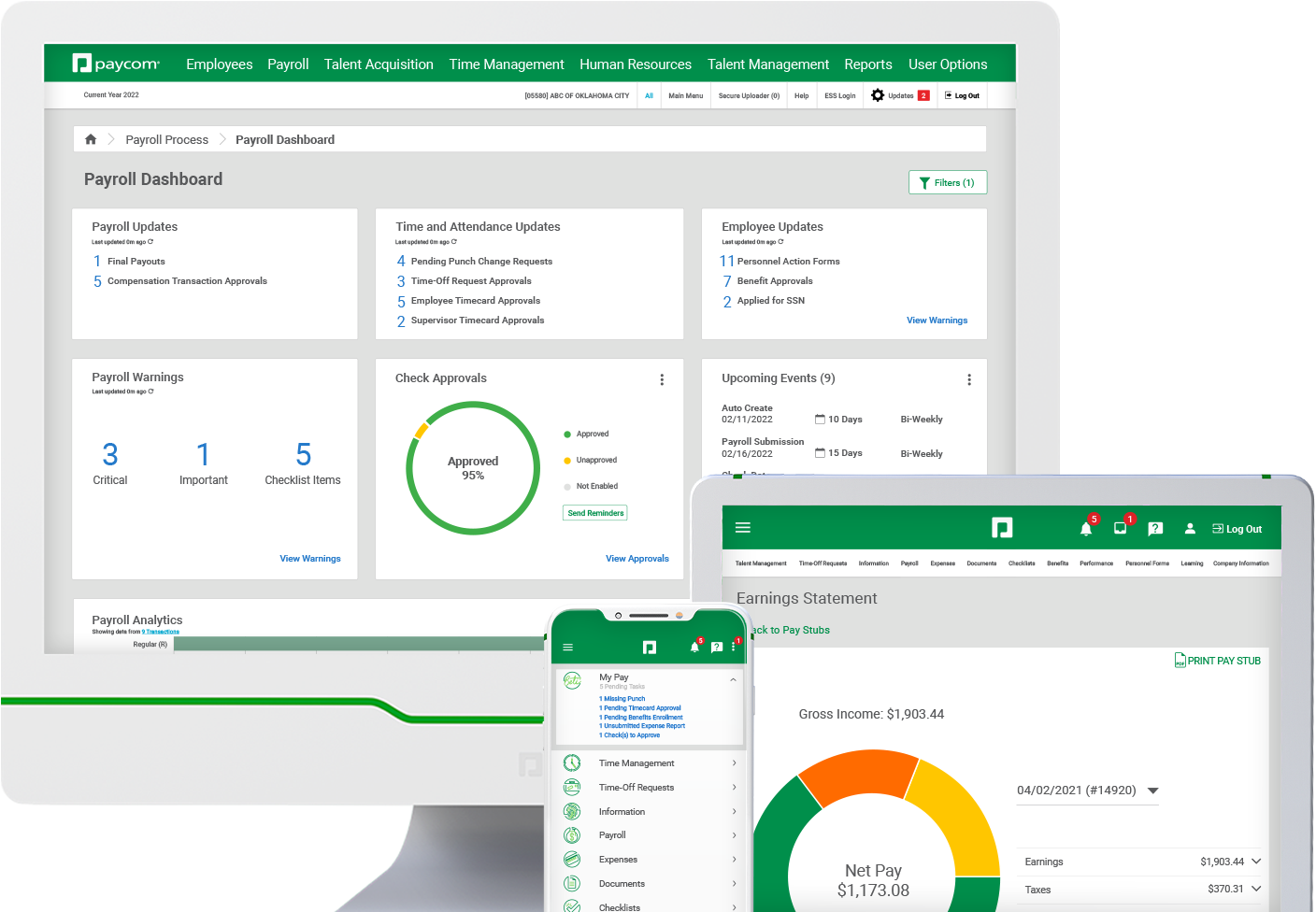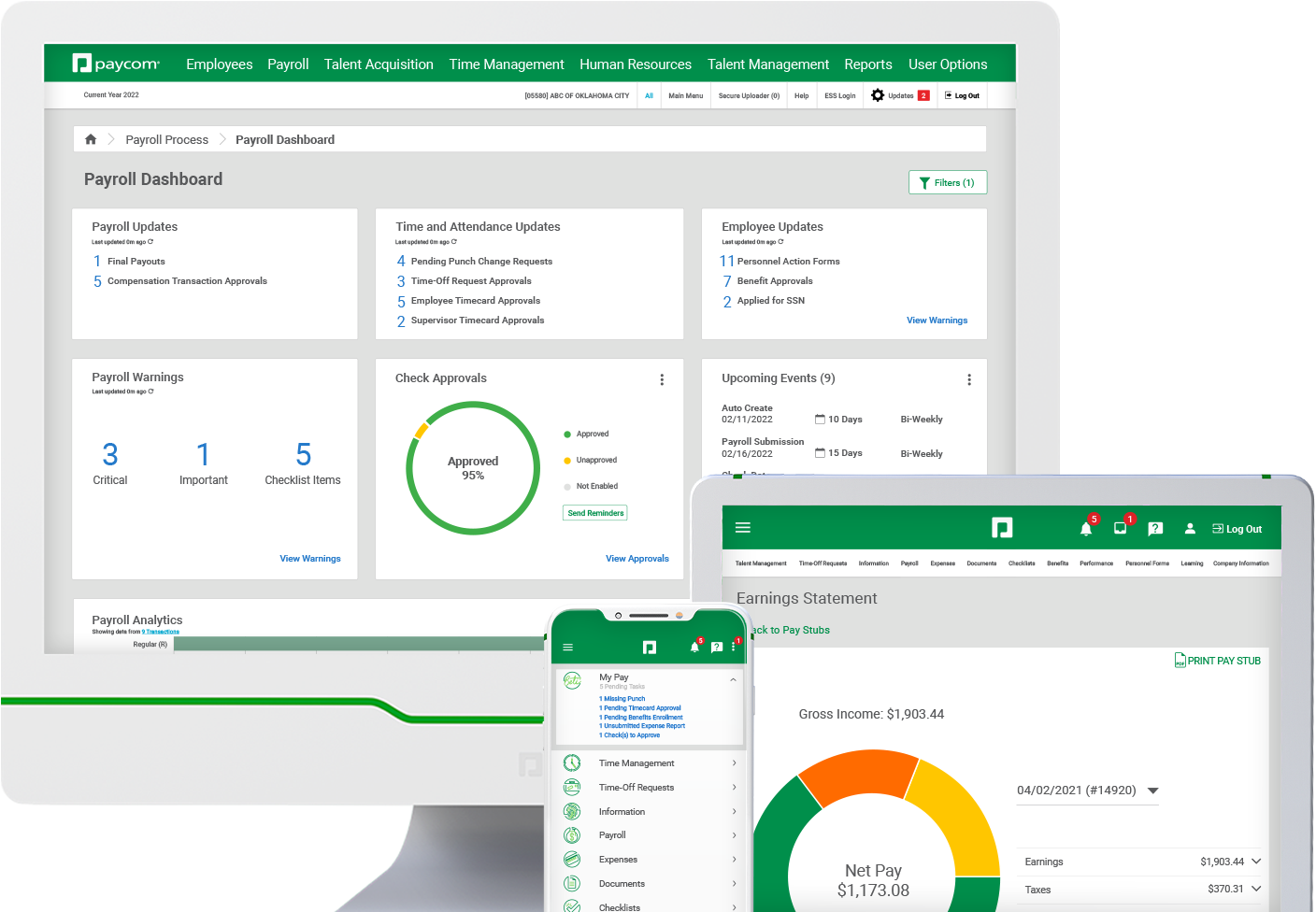 Get payroll and pay cards from a single, world-class provider.