Report Center
Easily generate and review customizable or predefined reports across all workforce data with reporting HR software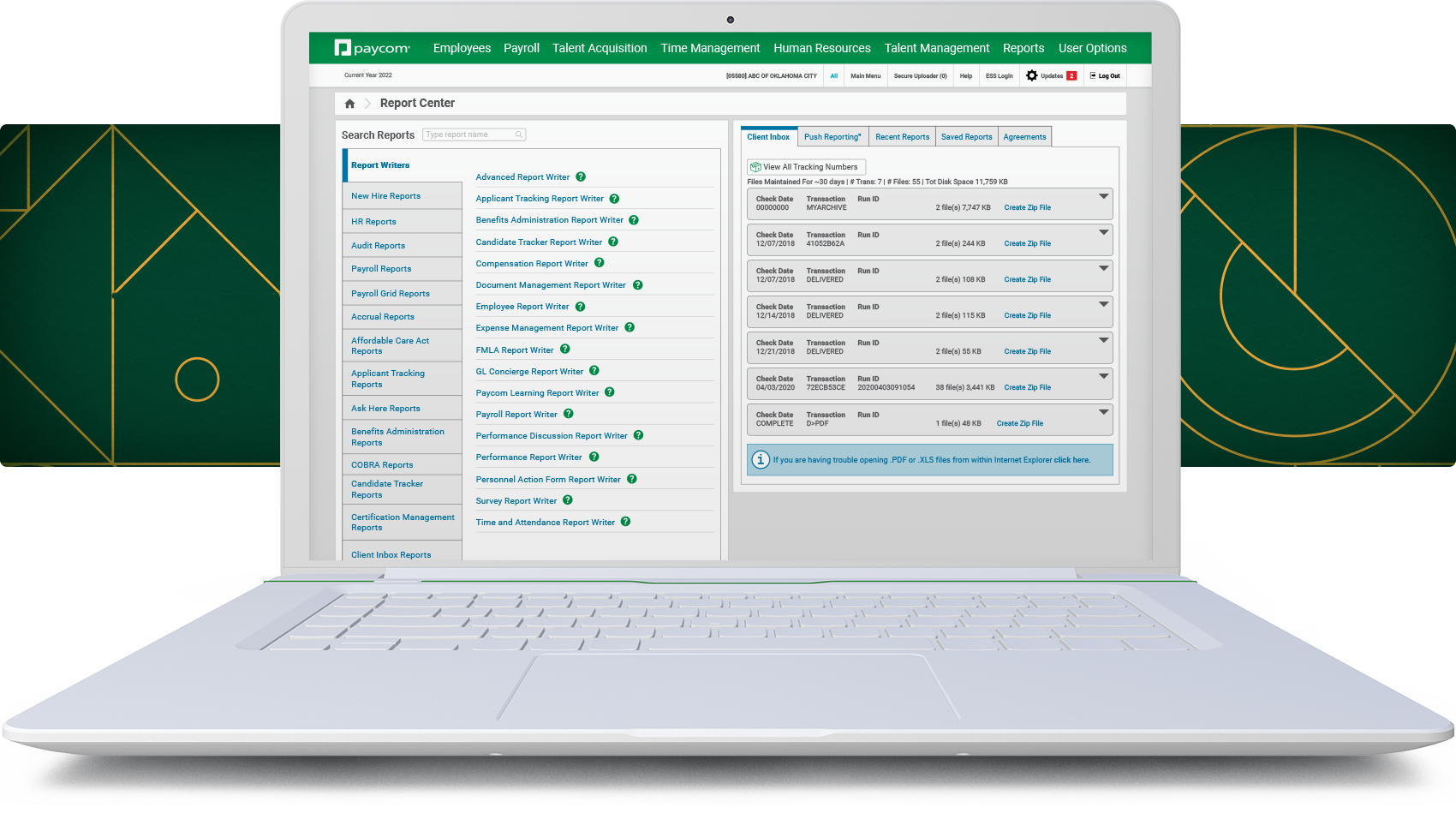 Every workforce metric at your fingertips in Report Center
Paycom's easy-to-use reporting software gives you deep insight into your business for more informed decisions. Whether you need a big-picture overview or to drill down into the details, you can generate the report you need in one convenient spot: the Report Center.
Create custom reports on your HR data within Paycom. You can easily filter the exact specs you need and save among several sharable formats. The advanced report writer gives you added versatility with charts, graphs and more. And the employee management and general ledger report writers help you build a detailed analysis of your workforce and budget.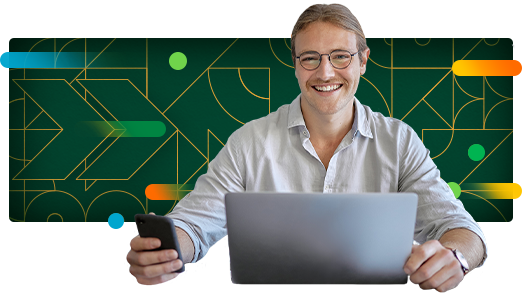 Are you worried about remembering which reports to pull and when? When you add Push Reporting®, you only need to schedule them once to send and notify users the exact reports they need on time — either daily, weekly, monthly or yearly — and in the correct format.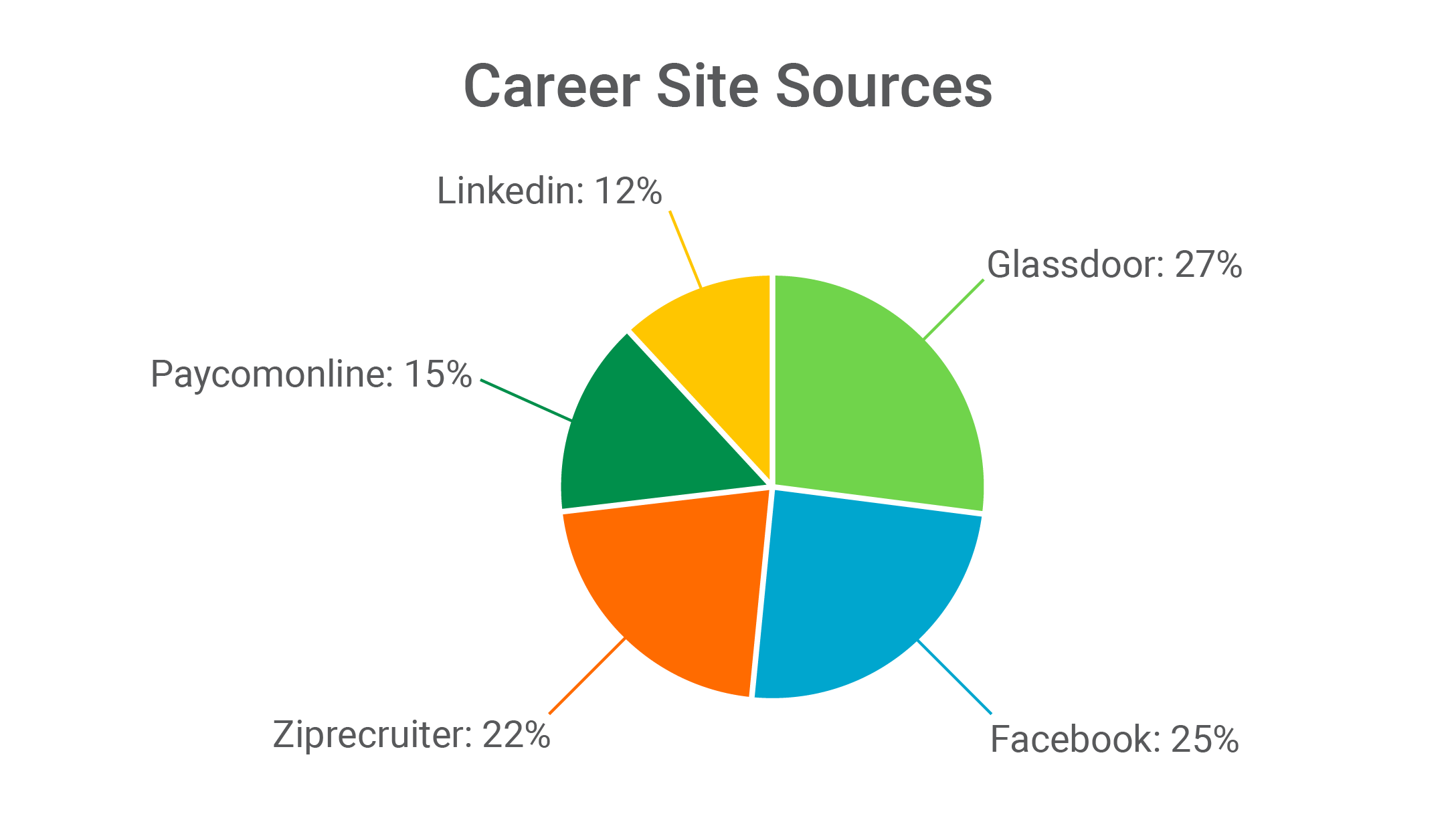 My Analytics gives you a big-picture, customizable view of business data in real time and on demand. This gives HR reporting insight over a variety of different areas, including turnover, labor distribution, expenses and more.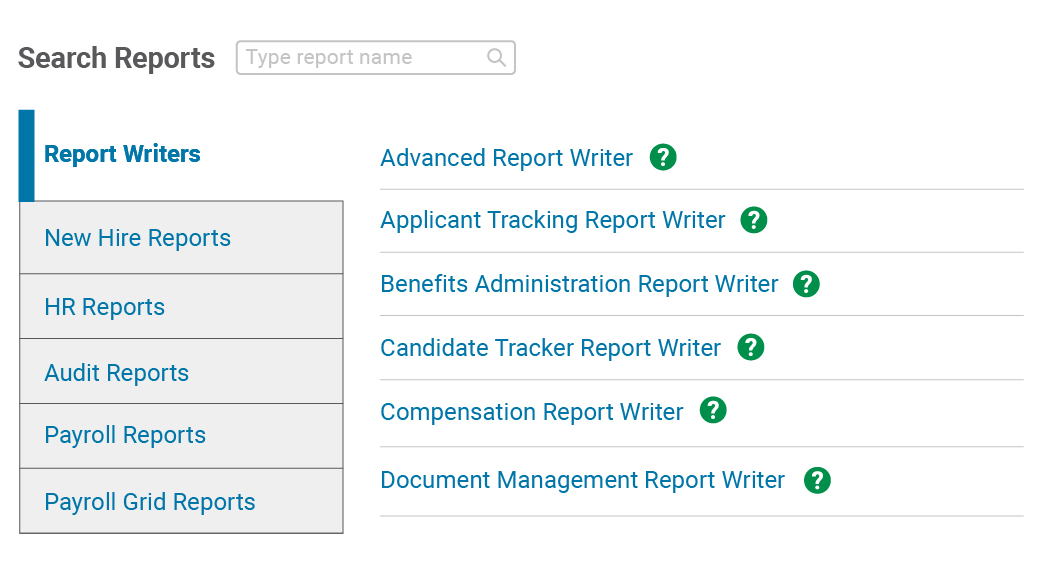 Our predefined reports give you a vehicle for instant analysis. Enjoy product-specific reporting or explore HR, payroll and audit reports without the need to build them yourself.
If it can be monitored, it can be measured
HR Management Analytics
Help maximize the ROI on your HR technology to spend time with people, not paperwork.
Labor Management Reports
Help manage overtime, monitor your labor distribution, see who is clocked in and more.
Payroll Analytics
Gain insight into approved expenses, garnishments, labor allocation, workers' compensation, wages, taxes and more.
Talent Acquisition Analytics
See an application's status in the hiring process, the number of open and filled positions, and more, to make informed decisions on future staffing numbers.
Talent Management Analytics
Look at compensation changes, salary grades, compensation budget forecasting, compa-ratios and more, to see where company payroll is spent.
Time and Labor Analytics
Look at hours worked vs. threshold, overtime, employee time off, schedule forecasting, unscheduled shifts and more, to gain valuable insight into time spent on and off the clock.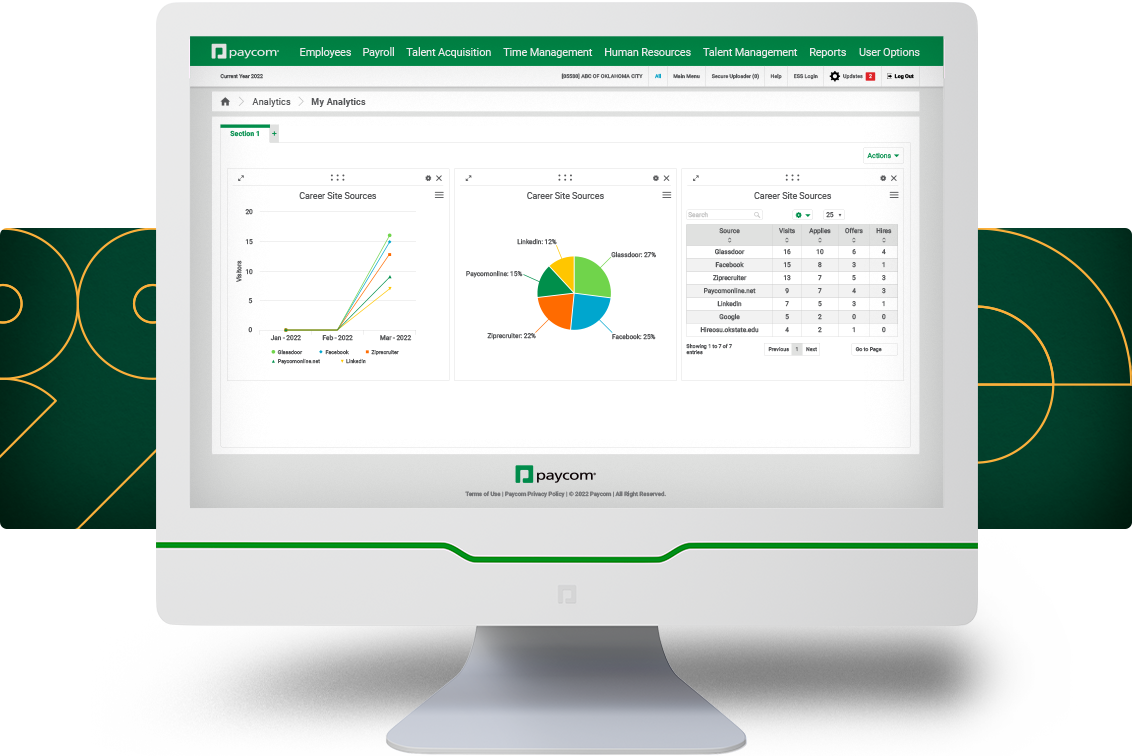 My Analytics offers powerful workforce insight
For a big-picture, customizable view of company data in real time and on demand, My Analytics offers powerful workforce insight, including:
salary expenses
historical head count
employee turnover rate
employee tax liability
labor distribution percentage
retirement plan company match dollars
and more
rEPORT cENTER wORKS wELL wITH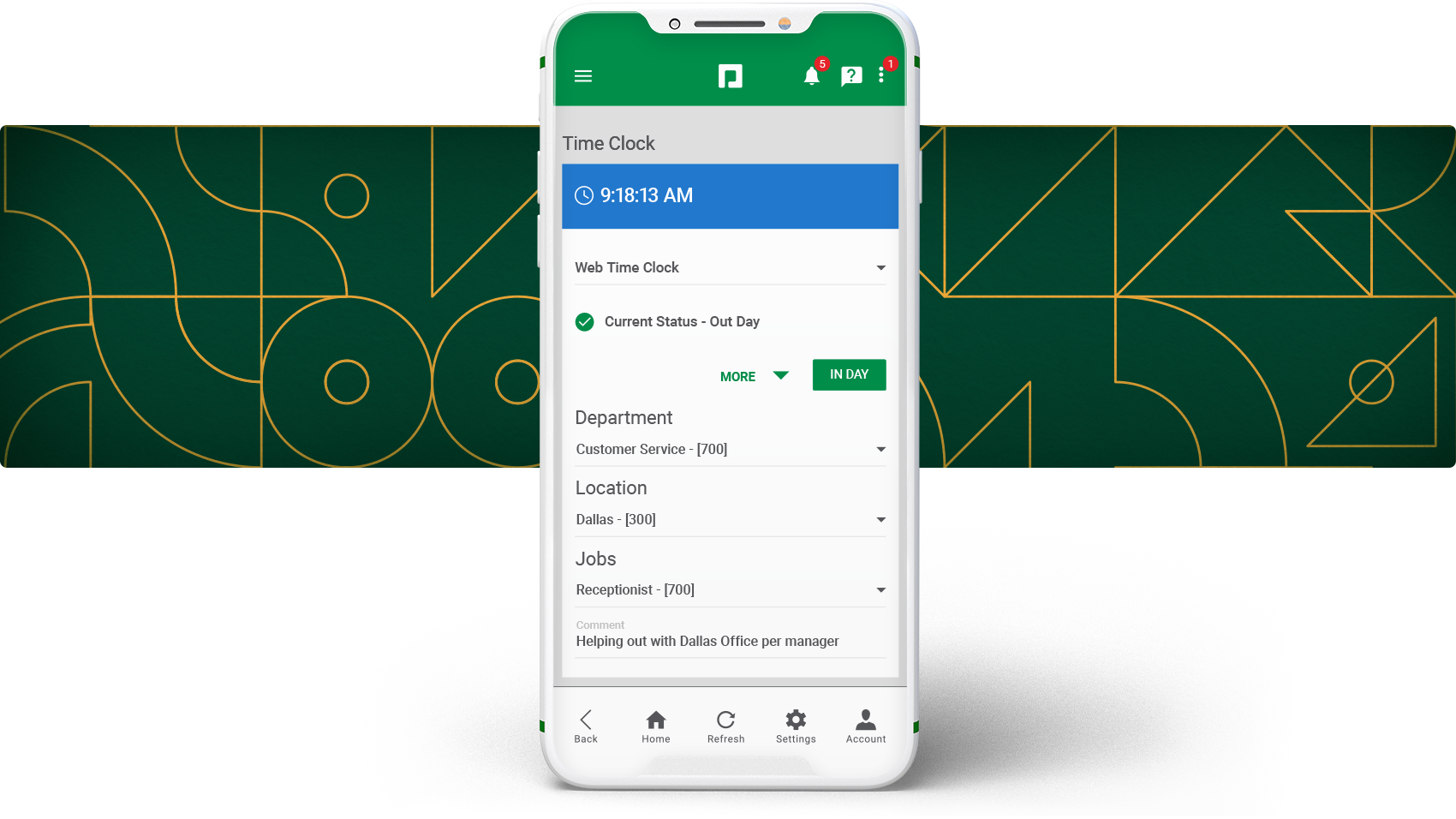 Accurately and efficiently manage when, where and how your employees report hours worked.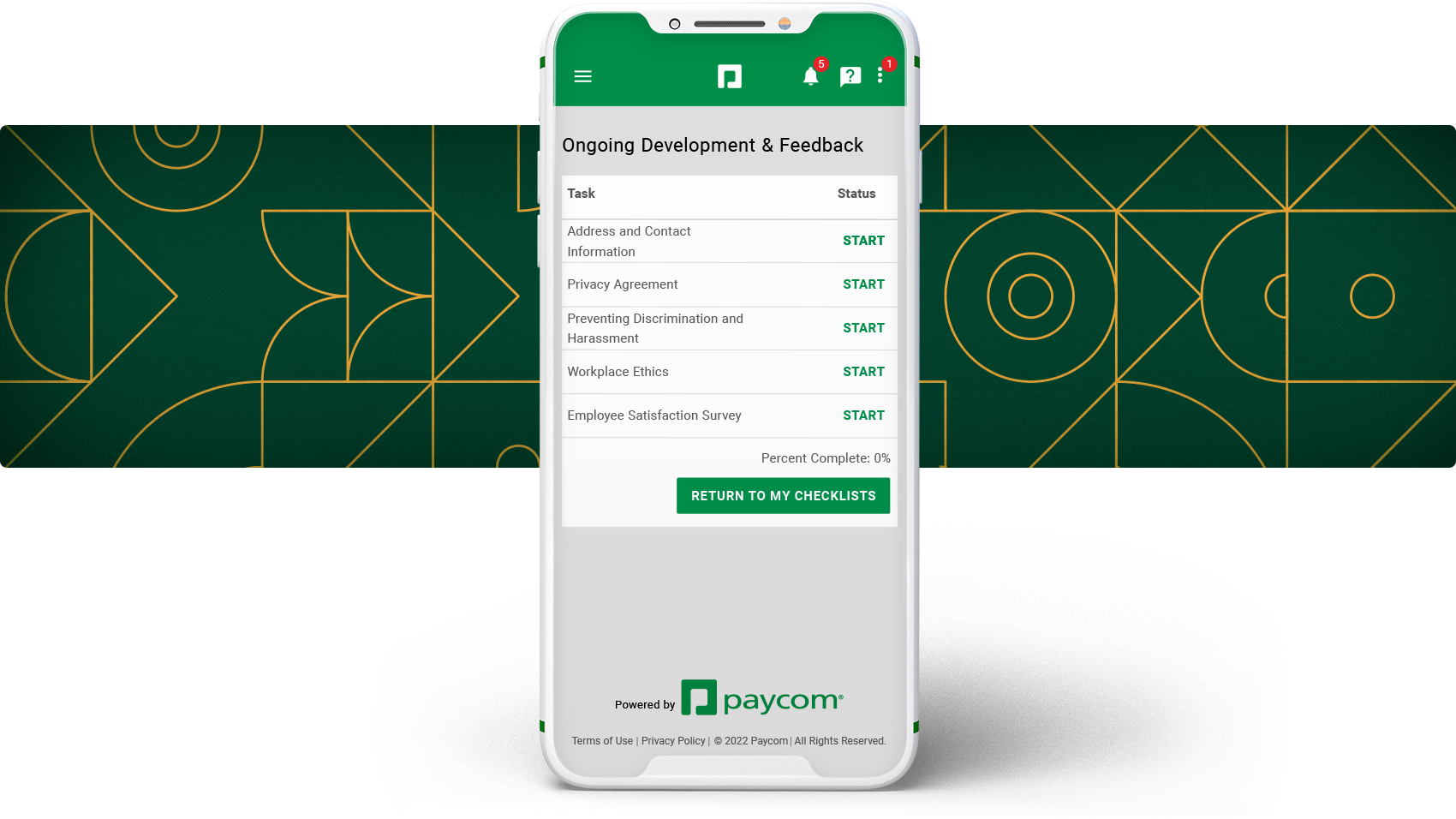 Accurately and efficiently manage when, where and how your employees report hours worked.
Explore these resources to make the most of HR reporting
FREQUENTLY ASKED QUESTIONS
Learn how Report Center streamlines businesses
Paycom's software grants clients access to a standard group of reports to help meet government reporting requirements. These reports include EEO-1, VETS-4212, OSHA 300 log, OSHA 300A, FLSA earnings, FMLA absences, certified payroll, payroll-based journal and more.
Predefined reports, including those related to personnel actions, are available within our Report Center. Additionally, clients are able to easily create customized reports to fit their specific needs.
Yes. Reports are available that make it easy to see course completion rates for training among the workforce.
Yes. Within our Report Center, an open position count report displays the number of open positions at any given time.
This type of customized report can easily be generated with filters within our HR report center.
Absolutely. Clients can easily build labor allocation reports using the filters within our software.
A variety of reports relevant to Affordable Care Act compliance are available to clients within our Report Center software. These reports address the ACA 1095 approval audit, the hours worked audit, coverage affordability and code series, just to name a few.
Within Paycom's Report Center software, clients have access to reports on deferred taxes, employee Social Security contribution tax deferrals, wages and taxes, and other payroll-related topics.
For all your HR management needs in a single software, request a meeting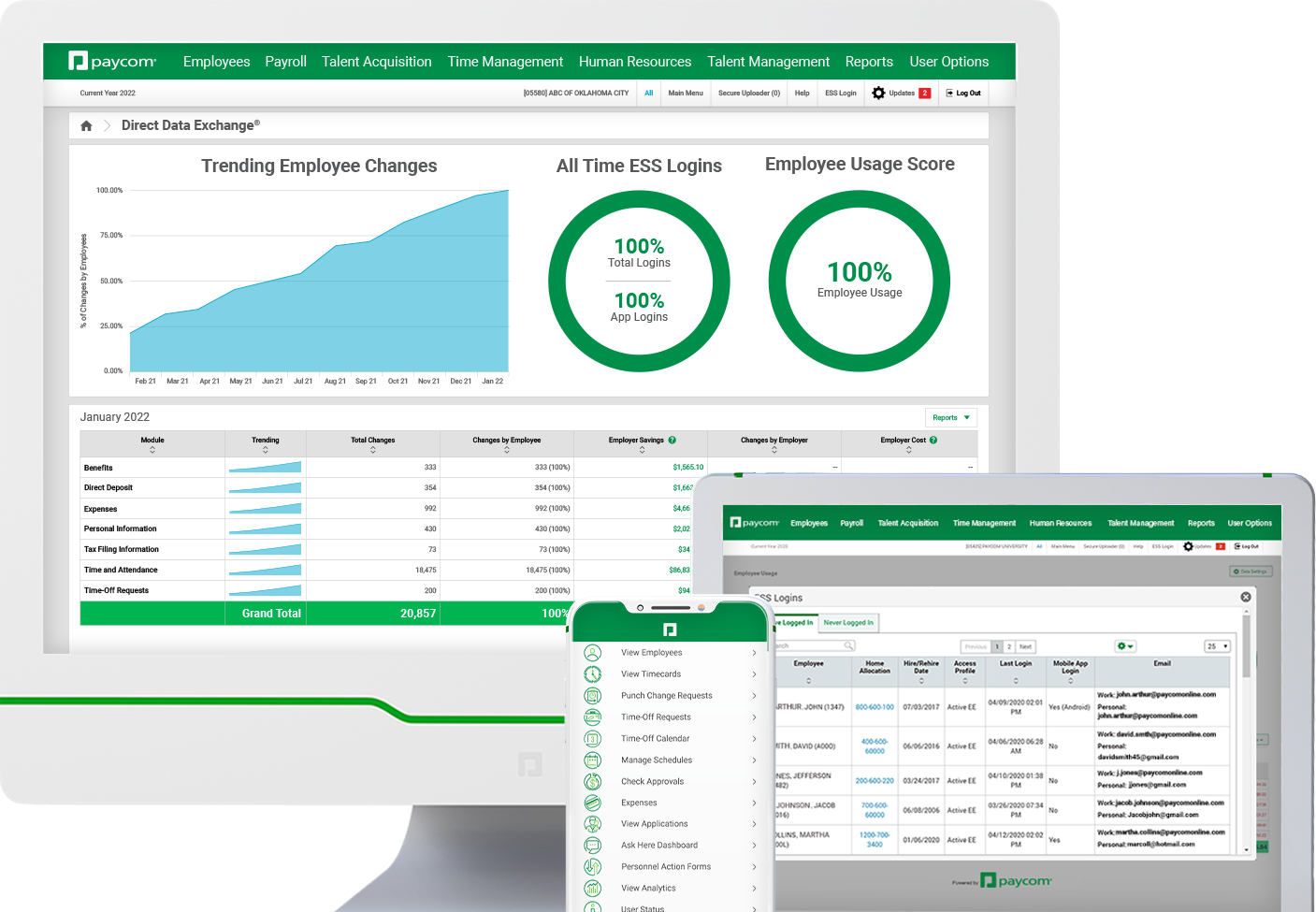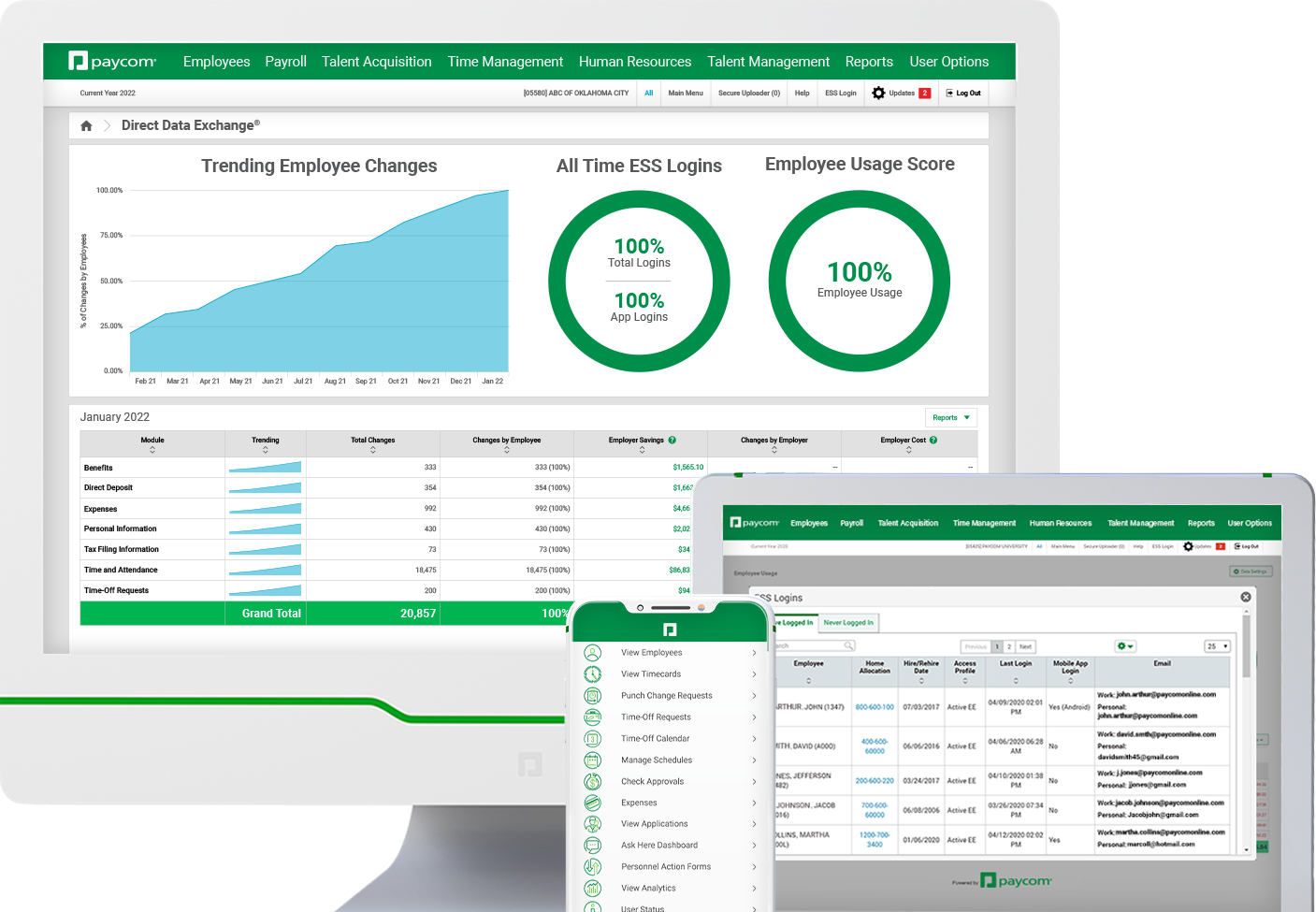 For all your HR management needs in a single software, request a meeting.