HR and payroll software for professional services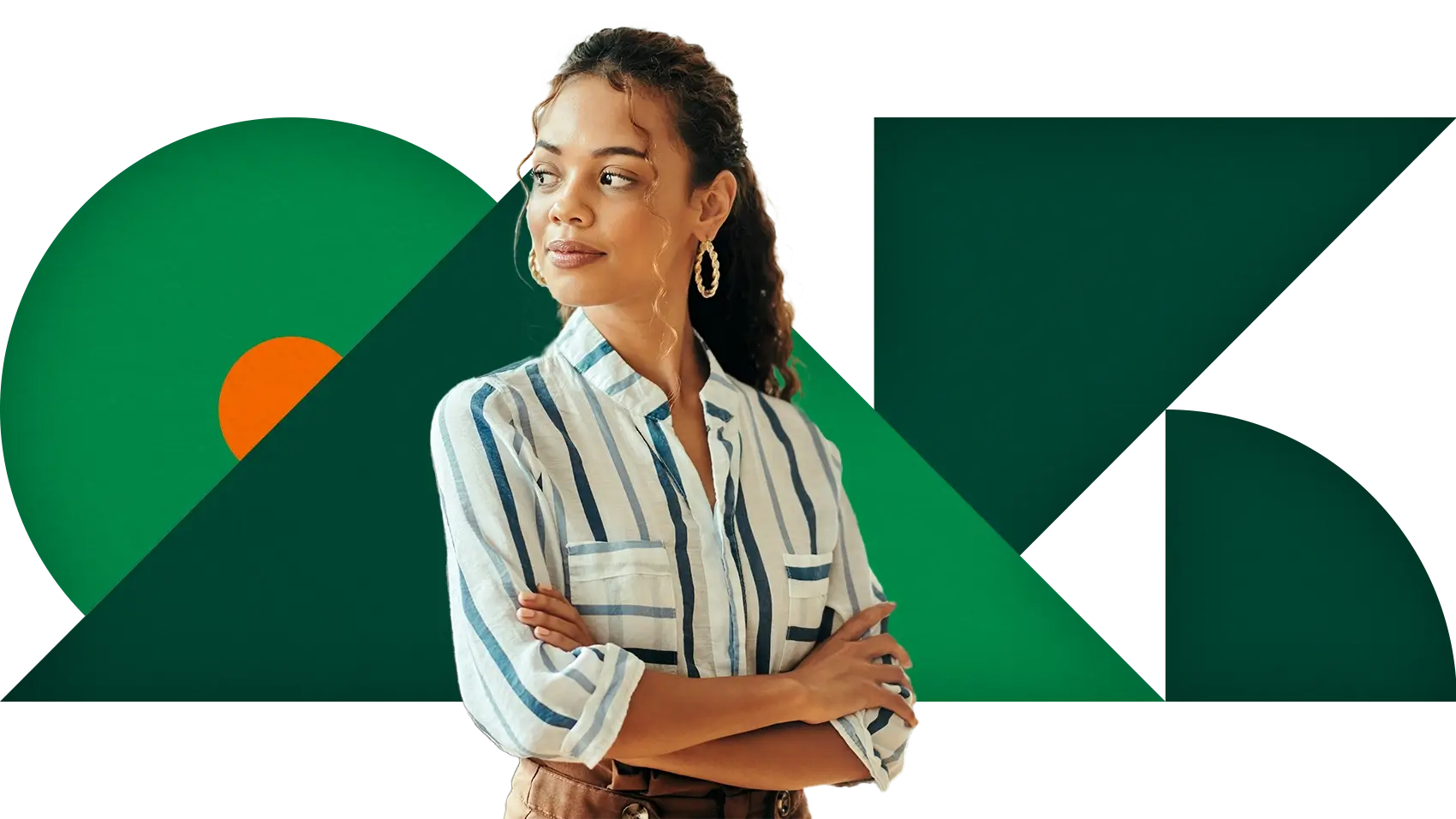 800,000+ 5-star reviews on App Store
How Paycom solves your greatest challenges
Your challenges
Outdated, disparate HR and payroll systems employees refuse to use
Administrative processes that distract from the client experience
Finding qualified employees in a competitive environment
HR tech and processes that drain your bottom line
Paycom's solutions
A truly single and engaging HR and payroll software that's easy to use and constantly innovating
Software that automates processes so you can focus on serving clients
A streamlined applicant tracking system to find and onboard top talent
Software that maximizes ROI based on employee usage, boosting both retention and profitability
The tools you need to streamline HR and payroll
How Paycom helps professional services organizations
Professional services firms rely heavily on tools and software to enhance the client experience and facilitate project management and other areas that generate revenue. But many overlook the opportunities to streamline processes and reduce overhead costs, particularly in the realm of HR and payroll. Paycom puts all your needs in a single software and empowers employees to manage their own data. This engages your workforce, removes administrative burdens, reduces labor costs and frees up existing resources to focus on client service.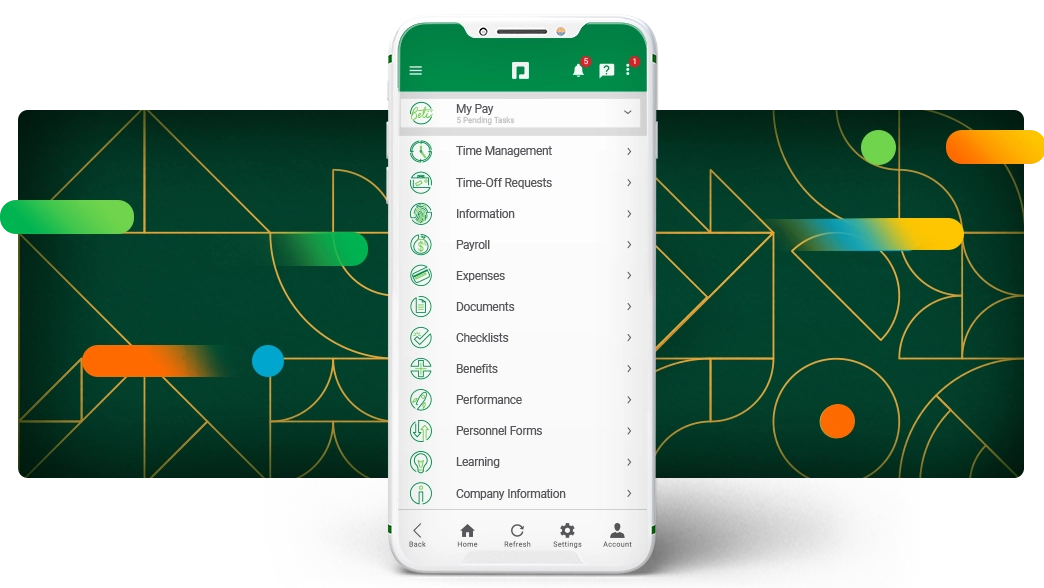 Paycom empowers employees to enter and manage their own HR and payroll data in our easy-to-use app. Employee Self-Service is their intuitive entry point into Paycom, giving them direct 24/7 access to their data, company communications and more. This reduces HR's administrative duties and increases engagement with enhanced data transparency.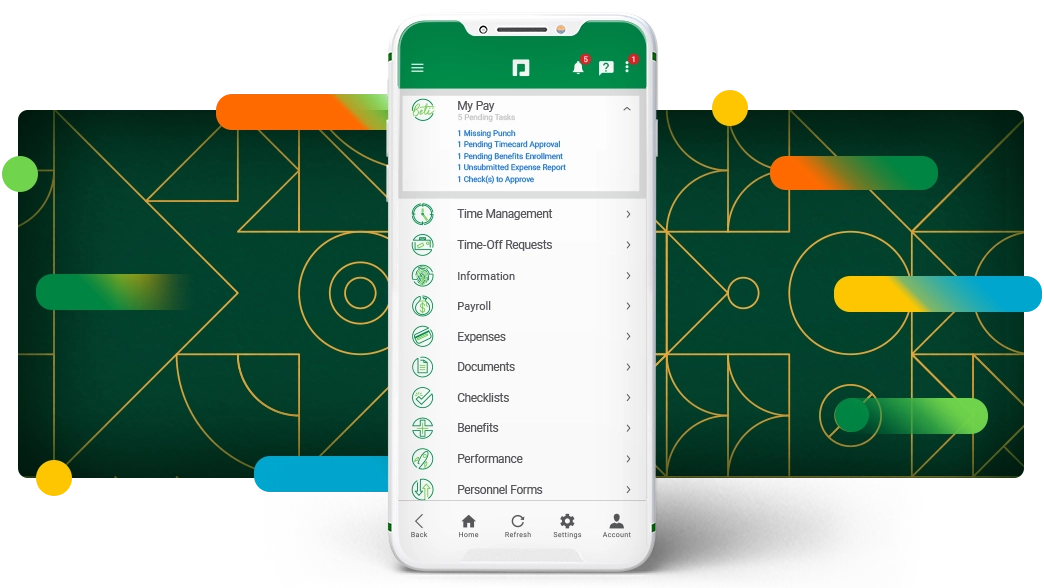 With Paycom, employees do their own payroll. Beti, our employee-driven payroll experience, automates the process and identifies errors and guides employees to fix them in our app before submission. This leads to improved accuracy, reduced liability and labor, and greater paycheck confidence. With Everyday, employees can receive their wages daily on a secure payroll card.* This powerful employee benefit gives them greater financial flexibility and helps you attract and retain the talent you want.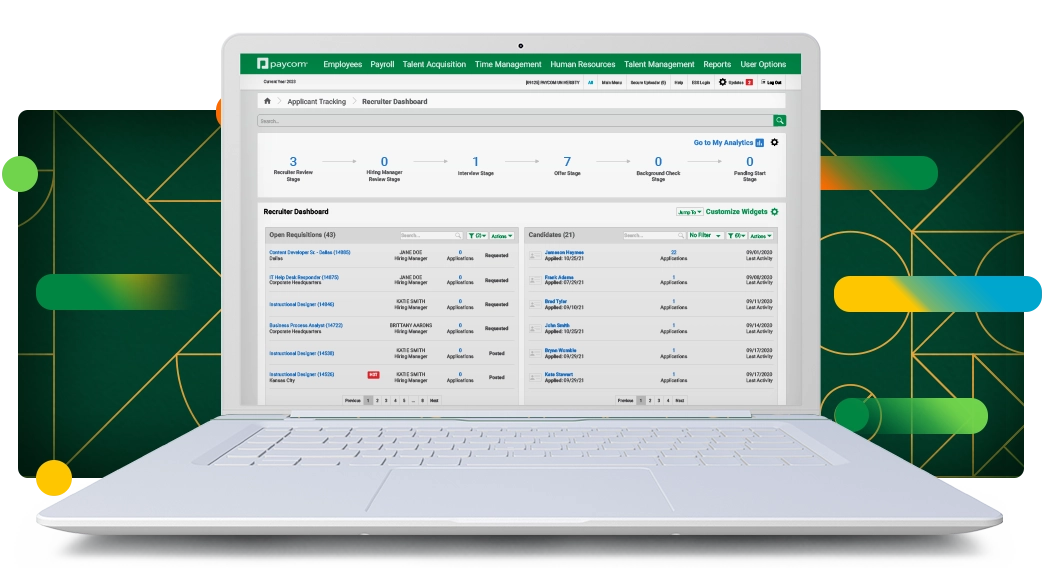 In your industry, the competition is fierce. So you can't afford to let quality candidates slip through the cracks and don't have time to sift through applicants who lack the required expertise. Our software puts all the recruiting and hiring steps in one place for a quick, seamless experience for both you and the candidate with no data reentry. It posts openings to popular job boards and helps you reach the candidates you want and filter out those you don't.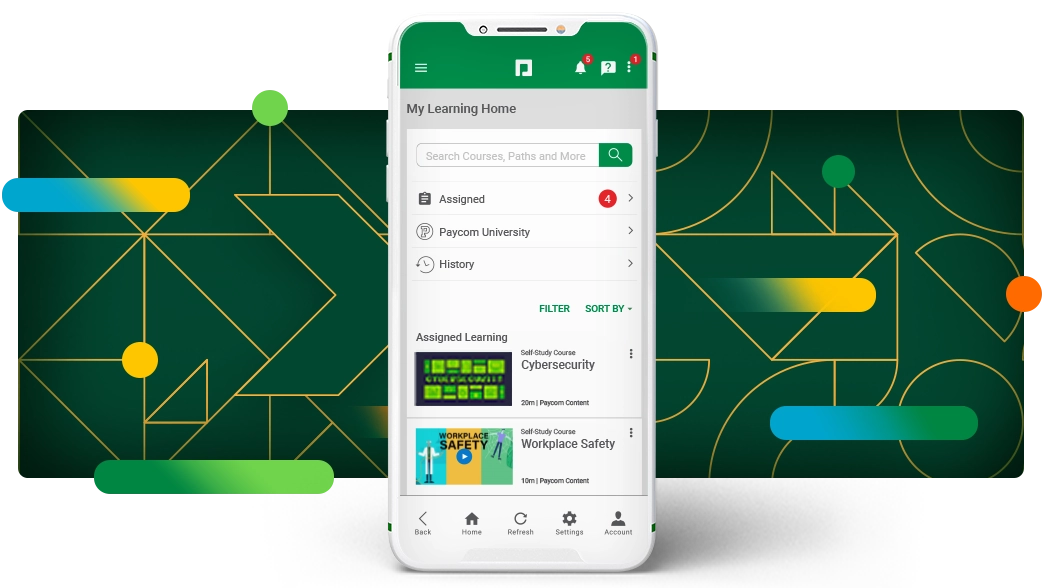 Optimize workforce development and ensure organizational compliance with Paycom Learning. It streamlines training and facilitates continuous learning and skills development to help ensure employees continue to grow and meet the demands of the industry as well as applicable laws. Employees can access training from anywhere via our mobile app and complete courses on their own time.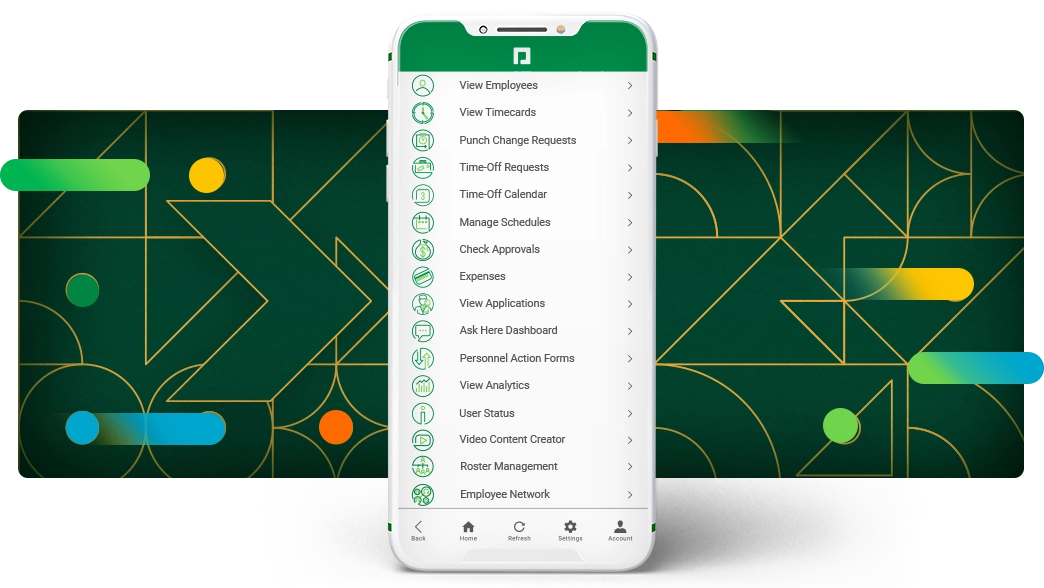 Because work doesn't stop when managers are away from their desks, our mobile management app gives them the ability to complete essential tasks involving the employees they supervise — anytime, anywhere — in one place. Making timely approvals helps increase employee trust and keeps work from piling up. It also allows them to view applications, notify recruiters and move candidates through the hiring process. This frees managers to focus on leading their team rather than being tied to their desks to manage time-sensitive tasks.
What businesses like yours have to say
"Paycom has created a new competitive advantage … by saving us time and money on payroll and HR-related duties. We are now able to invest that time and money into different areas of our business."
manager
staffing agency
"I did thorough research and met with most of the big companies and, after it all, decided on Paycom. Paycom's technology was the best I had seen for handling everything HR and payroll. The automations and removal of any human error have been huge."
company representative
moving company
"We love that Paycom's modules are all integrated within one system. We are thrilled that we chose Paycom and would absolutely recommend it to any colleagues who are looking to change their HR information system."
HR representative
safety solutions company
"Paycom knows their product and they know how to use it well, to the benefit of their clients."
HR representative
real estate
*Please see Terms of Use. Employees generally receive their net pay within 24 hours of working, but some employees may receive their pay sooner. Some limitations may apply based on employer's pay cycle, employee's pay amount, timing of approvals or certain employer configurations. Employees start receiving net pay after they have earned enough money to cover their required deductions, taxes and benefits each pay period.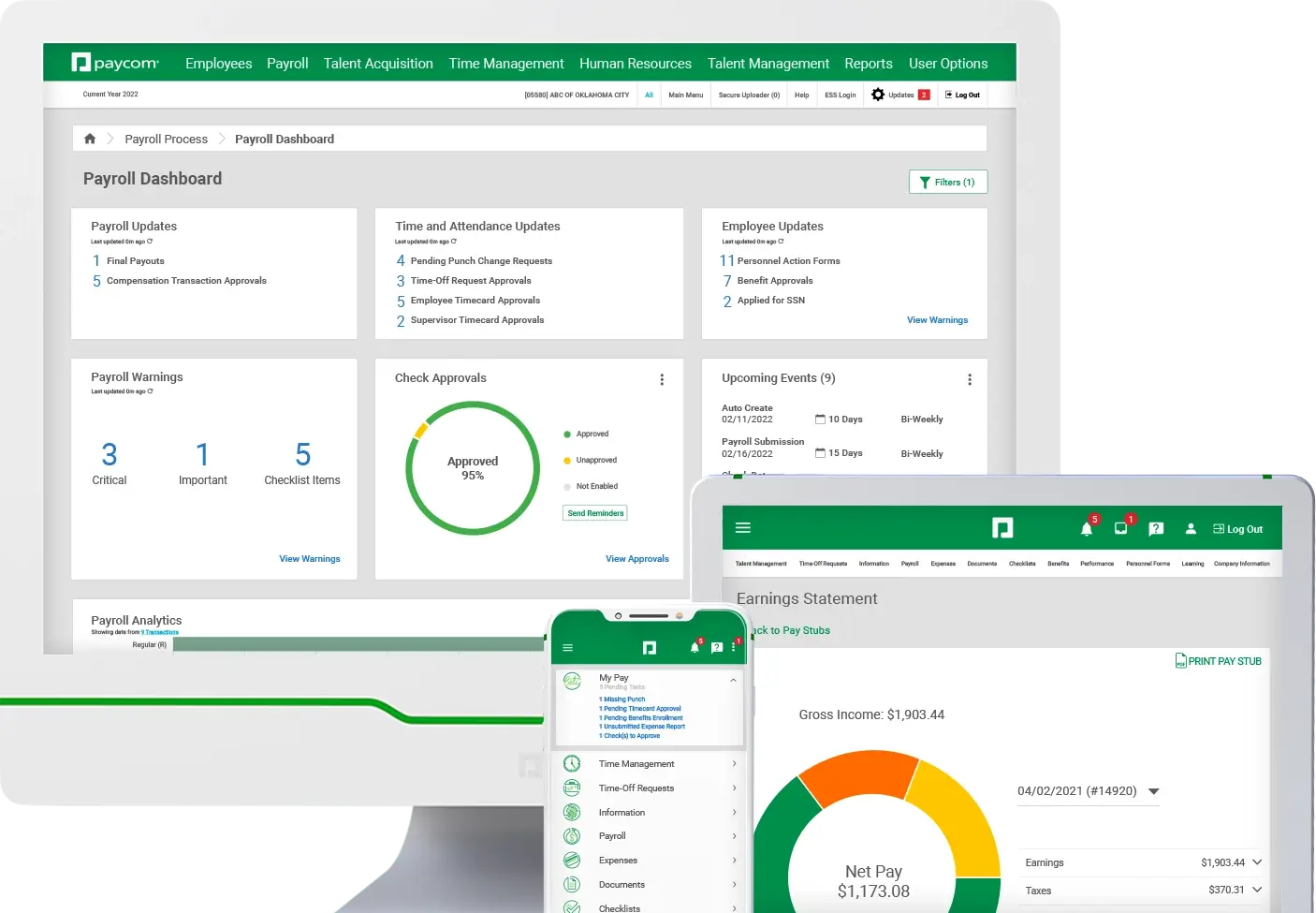 For all your payroll needs in a single software, choose Paycom.